Welcome to Card Game DB
Register now to gain access to all of our features. Once registered and logged in, you will be able to create topics, post replies to existing threads, give reputation to your fellow members, get your own private messenger, post status updates, manage your profile and so much more. If you already have an account,
login here
- otherwise
create an account
for free today!

0
Bootagot's Tournament Round Review 3
A Game of Thrones
Tournament Report
Bootagot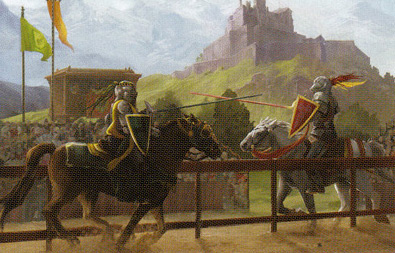 Round 3 – Justin (Aussie) – Baratheon – The Black Sails
This week I was up against fellow Australian Justin, playing his awesome Bara Black sails deck. The previous two weeks I had not played a single game apart from my tournament matches; however I felt at 2-0 I was starting to get into the business end of the tournament. So I decided to play a couple of games before my actual match. Either way I end up playing a Bara BS deck that I get a godly setup and first turn play, resulting in a concession before the second plot. So when Justin puts Bara BS on the board I am giving myself high fives like I just flogged one of these decks YAY… boy was I wrong.
Setup:
He has a solid setup, mine is average along with my hand. I have said before if you don't build up your economy, your card advantage can become redundant. Although some may disagree I feel there is a marginal rate of diminishing utility for every additional card you draw past a certain point (heuristic disclaimer). This varies from house to house; for example Martell KotHH has a much lower/non-existent diminishing rate as they play a ton of events that are reactive so the more options they have come combat the better. However a house like Stark, a hand full of 3 cost bi cons doesn't help when you can only play 1 a turn.
Plot 1:
My plan was drown him in the salty sea of card advantage. This may have cost me a slight misplay, as I had Blockade, Cog and bay of ice, with a Silky street in hand which I did not want to play because I wanted all the locations. Blockade is insane when he is trying to bounce seat of power back and forth and Cog + ice helps me win the card battle (which I was winning anyway with TLV… well so I thought). He nightmares my blockade and spews forth a den of smugglers. At the end of the marshalling he had the smuggler that gives all other smugglers stealth, Carrion bird, Dale, Davos, Han Solo and Chewbacca. I have the salty delights of Baler, Wendamyr, Alannys and a scavenging bird. Needless to say I am up against quite a smuggling ring and things are looking grim. It didn't help that Alannys and Wendamyr were dressed as fools.
Plot 2:
I felt I had two options to get me back into the game; reset with valar (easy mode) or try and wrestle back some board position (hard mode). I knew I had to get rid of Dale as he was moving seats of power back and forth like he was having a clearance sale, gaining huge economy advantage. So my plan was pre plot Nightmares Dale, Valar and Forgotten plans next turn when he attempts to get Dale back with Mel Schemes (which is what happens), locking him out of the Dale hokey pokey (as Justin called it). Also I felt the reset favoured me because he was running out of cards. I valar everybody dies, he proceeds to drop Val and TLS to regain his hand. Then in challenges fiery kisses Dale into play getting back both his jester costumes and moving Dale to his discard pile, allowing him to play another next turn. The goggles they do nothing!!!!!
Plot 3-4:
You may want to look away because what happens next is ugly… He proceeds to go off and trounce me, I'm talking SoP into Dale getting back SoP, playing Stannis duped, winning naval challenges duping furious stags left right and centre. Between Dale, Val + TLS and BS agenda he was card advantage king. I conceded on the fourth plot (2-11) overwhelmed by his board advantage, with my team feeling slightly silly in their newly donned clown costume (a generous donation by the Stags).
My thoughts on the match are positive; Justin was super cool and even hooked me up with some local players in Brisbane. Do I feel like the match is unwinnable? Not at all, quite the opposite. I would categorize the deck as a combo deck (der), which gains exponential benefits if left unchecked. However is very vulnerable to disruption. There were numerous times I felt that if I had To be a Kraken/finger dance/Alannys to cancel the fiery kiss/SoP/Dale it would just stop the chain of events in its tracks. However without the disruption combined with a solid pilot the deck can really go off.
Your turn:
Below is the board state after the first marshalling phase. The arrows indicate what I did, and the article explains my initial game plan over the first few plots. Note: I think I stuffed up quite badly (forgot Davos had Melee) and my first few turns easily cost me the game. What would you guys have done?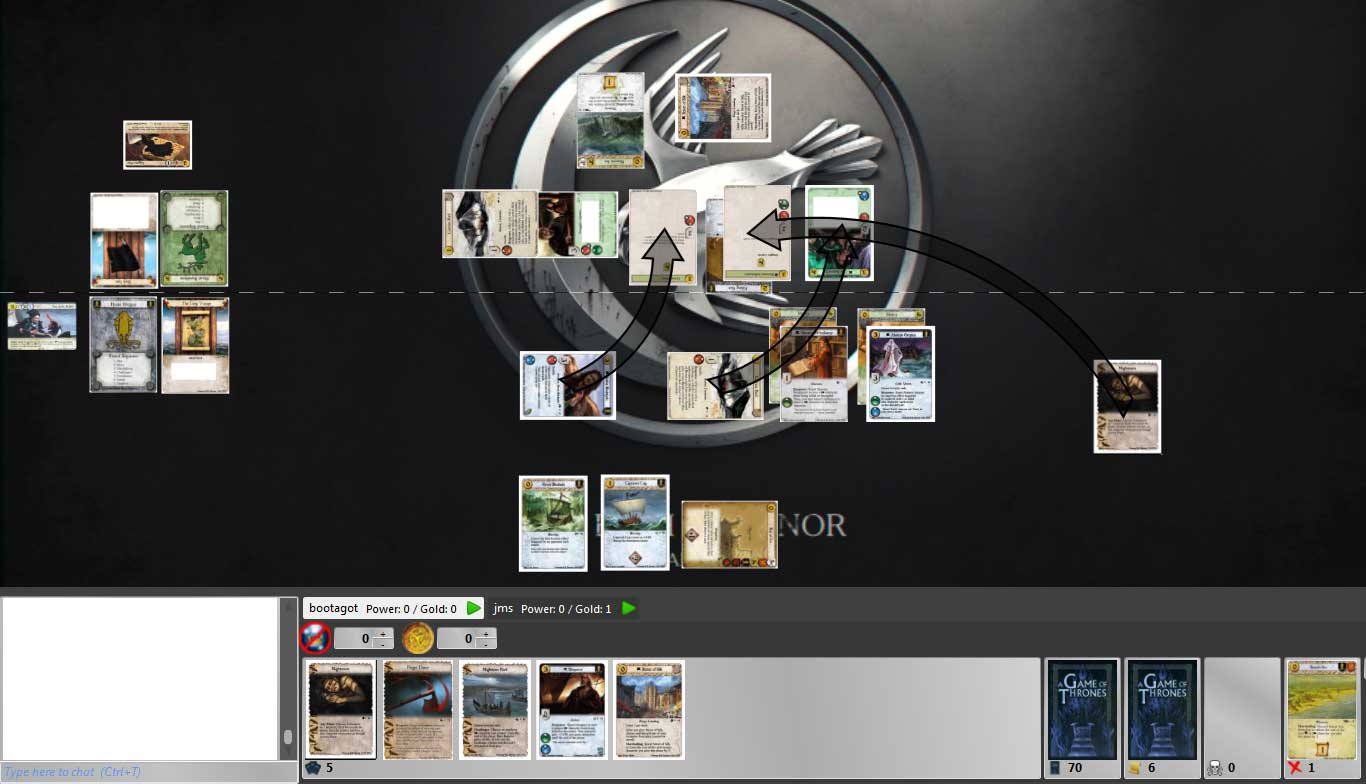 Also my two cents on the new FAQ: Negotiations probably could afford to not be on there for several reasons. Firstly your opponents has the option of doing it as well and secondly after playing with it for a while now although it is good (stats) I have found it not to be great. For example when I want to Negotiations my opponent is also low on cards and would love a refill as well and good opponents will hold cards to play around missing out on the benefit. The other thing I was bummed about was the errata to TLV. I wish the erratum was to limit it to one copy of any card per deck. So an EDH style deck for those of you familiar with MtG. Making it neutral only has sentenced it to the binder for life. What are your thoughts on the FAQ?
Links to previous round reviews:
Round 1
,
Round 2
Article: Bootagot's Tournament Round Review 3