Welcome to Card Game DB
Register now to gain access to all of our features. Once registered and logged in, you will be able to create topics, post replies to existing threads, give reputation to your fellow members, get your own private messenger, post status updates, manage your profile and so much more. If you already have an account,
login here
- otherwise
create an account
for free today!

5
Quill & Tankard Regulars - Issue 23
Small Council
Quill & Tankard Regulars
WWDrakey
Ire
JCWamma
Ratatoskr
Quill & Tankard Regulars - Issue 23
On yer feet, ye rascal. Whatn' tha blazes are ye doin' sleepin' on the floor o' me Inn? Here, I thought I gave *spessiffic* instructions for ye all to keep tha Inn open n' aboot while I was aways.

Och, and whose tha wee laddy? Ne'ermind, I dun wanna ken. If n' he's gunna be hangin' round ere e's gotta pull his weight. Inna cart full o' beer casks n' sausages that is.

Now, we'er's me ratty? We gunna open inna jiffy, n' we can't ha no Inn without a ratty!
So, there you have it. The doors of the Quill & Tankard are opening up again for it's usually seedy crowd of patrons, from peddlers of dodgy merchandise to ink-smudged bleary-eyed apprentices and... Archmaesters already deep in their cups at this time of day.
We've come back reinforced with a new member for our writing team in James "JCWamma" Waumsley, also now known as "The Whipping Boy". Whether to congratulate, or commiserate... well, that's for all of you to judge.
While we were away, it looks like some ships from Meereen, Lys and other exotic places, arrived at the Oldtown harbour, so it might be prudent to go check what dodgy merchandise they have brought with them.
Scribe's Heart - The Naval Enhancement
Scribe's Heart is a series of articles delving deeper into specific topics, from game mechanics to specific types of card effects and beyond. An effort is made to explore the discussed topics in-depth, in order for these articles to function as important study material for both apprentice and acolyte.
One of the newer talking points, when it comes to rules discussions in a Game of Thrones, is the Naval Enhancement, a subject briefly discussed in the
Battle for the Shield Islands issue
. Introduced in the current
A Song of the Sea cycle, a character with a Naval Enhancement can, in a nutshell, jump into that icon's corresponding challenge outside of the usual framework action windows in which one could do so. Simple enough, right? Well yes, but this is AGoT we're talking about, so of course there's a bit more to it than that.

[float='right']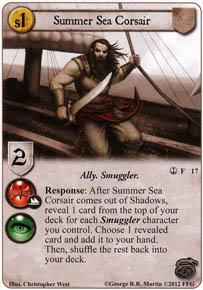 [/float]
How does the Naval Enhancement work?
The rules for the Naval Enhancement are defined quite nicely in the corresponding rules document, which can be found at the end of the FAQ. Let's quickly dust off our flowcharts and look at the order of events within each challenge in the phase, in order to get a clearer view of things.
Challenge Declared:

The attacking player determines which of the three challenge types will be contested, choosing one for which they have at least one eligible attacker.

Declaration of Attackers:

the attacking player declares which eligible characters are attacking, and commits them to the challenge, paying any costs needed to do so (often kneeling, although with non-kneeling characters this is not the case, and with some cards such as

Motley (Core)

a further cost must be met).

Player Action Window #1:

Starting with the first player and moving clockwise, each player gets the opportunity to declare a standard player action. When all players have consecutively declined the option, the window ends.

Declaration of Stealth:

For each declared attacker with Stealth the attacking player may declare a character controlled by the defending player without stealth ineligible to defend the challenge.
Declaration of Defenders: The defending player may then declare any number of eligible characters as defending, committing them to the challenge by paying the required cost.

Player Action Window #2:

This window functions the same as

PAW#1

.

Challenge resolution:

Determine the winner of the challenge, resolving claim, keywords, passive effects and triggered responses. For more details on the specifics (such as the grouping of the Framework Events into Framework Actions), check out

the Q&TR article on the Challenge Phase

.
During those two Player Action Windows, if either the attacking player or defending player has a character with the appropriate naval enhancement for the challenge, that player may enter that character into the challenge as an attacker or defender (yes, on the opposing side if so desired) by kneeling the character. Note that the character kneels whether or not they would kneel to attack/defend normally - the kneeling is a part of using the enhancement to enter the challenge, rather than the standard cost of entering the challenge.
"Oh," the over-eager apprentice calls out, "so it's equivalent to some sort of character ability? For instance, my

White Harbor Captain (TGF)

effectively contains the text 'Challenges: during a power challenge, kneel White Harbor Captain to have him participate in the challenge as an attacker or defender', right?" Well, foolish student, in essence yes, but in all practicality no, which is why I do wish you wouldn't call out.
People seem to use

Greatjon Umber (WLL)

as a point of comparison for this card, leading to statements like the above. In practice this is a poor definition for a few reasons. Here is a list of some of the ways in which our student is wrong:
You must be the attacker or defender in the challenge in question in order to have character enter the challenge (although the character can then enter on either side);
The enhancement stays in place even if the text box is blanked;

However, the enhancement does

not

stay in place if the icon is removed (although if the icon is returned to the character then the enhancement is also);

The enhancement can be used in any phase in which there is a challenge rather than just the challenge phase (for instance in an

Epic

phase, or in a challenge triggered by

Lucas Blackwood (GotC)

or

Shadow Politics (CoS)

);
Declaring a Naval attacker or defender is a game mechanic, not a triggered effect or card effect.
This last point is the most salient, since at first glance it doesn't seem to make too much difference in the grand scheme of things. However, this means declaring a naval character cannot be cancelled, and can still be done in a challenge in which

Brienne of Tarth (PotS)

is participating.
Interaction with other cards/mechanics
So having established what the Naval Enhancement does, let's consider how it interacts with the other elements of this game. There are two sub-categories to this - direct and indirect interaction.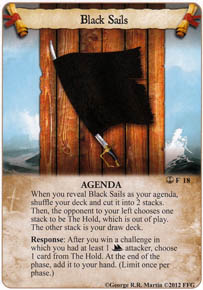 Direct Interaction
By direct interaction, we mean cards that consider Naval Enhancements directly. The immediate example that springs to mind is that of

Black Sails (RotK)

. The agenda is entirely based around Naval Enhancements, letting you search your Hold for a card of your choice after winning a challenge in which you have at least one Naval attacker. Two things to note here - firstly, at no point does it state
you
have to be the attacker. If you win a challenge on defense in which you have declared a Naval attacker, you may trigger the agenda. Secondly, "Naval attacker" means a character that has been entered into the challenge as an attacker through use of the Naval enhancement, and not just a character who is attacking and incidentally has a Naval enhancement. For a point of contrast, consider

Victarion Greyjoy (RotK)

. Ol' Chintarion will raise your claim by one if you control more participating characters with naval enhancements (on any icons) than the opponent - no mention is made of those naval enhancements having to actually be used.
Indirect Interaction
When it comes to indirect interaction, things can get a lot more complicated. There are quite a lot of cards in the game that interact with characters being declared as participants in a challenge, and while some are obvious others can get more complicated, and have to be dealt on a case-by-case basis. Let's look at a few of them now:
[float='right']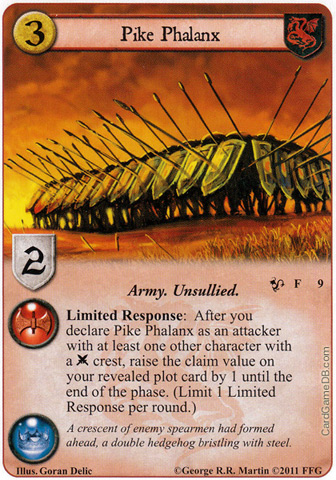 [/float]
Pike Phalanx (QoD)
If you can give Pike Phalanx a naval icon and then naval it into the challenge when you've already declared a war crest character, can you trigger the response? Answer: no. You have to declare Pike Phalanx at the same time as the war crest character, and since each use of a naval enhancement is a separate player action, your only hope for that juicy claim-raising to occur is if the Phalanx and a War Crest character are both declared during the "declaration of attackers" framework window
Stealth
This one is a keyword rather than a specific card. As a defender, can you get around Stealth through use of the Naval Enhancement? Yes and no. There is the opportunity in the first player action window to declare a defender using the enhancement before the stealth window; however, if the character is stealthed out during the stealth window, you cannot then declare them in the second player action window anymore.
Dragon Sight (aSoS)
NOTE: The following is erronous, at least as far as the declare stealth part existing. Exact details for this are still being researched, see forum topic
here
for updates.
Dragon Sight reads that "the opportunity for your opponent to declare defenders after you declare attackers is lost". Does this stop you using Naval? Answer: no. What it does is modify the order of the framework windows as follows:
Challenge declared;

Declaration of defenders framework;

Declaration of attackers framework;

PAW #1;

Declaration of stealth framework

(rarely matters, although if a character hasn't been navalled in yet you can stealth them out at this point);
PAW #2;

Challenge resolution

.
Given the way the card is worded this is an easy card to be confused by. But as you can see, it does not stop naval defenders or attackers from being added to the challenge, just modifies the order of things.
Joust
The text for this keyword reads "While a character with the joust keyword is attacking alone, the defending opponent cannot declare more than 1 character as a defender". So, if you naval in someone to join a Joust attacker, you are no longer attacking alone and the defending opponent can declare what they will. You can of course play some shenanigans with this, by only navaling in your supporting characters after the declare defenders framework action! On a defensive standpoint, because Navaling a character counts as declaring them as a participant, once you declare a Naval Defender, you cannot declare anyone else because you've already declared your one defender. However, note that what you
can
do (even as a defending player) is declare someone as a Naval
Attacker
. Then the character with Joust is no longer attacking alone, and you can declare as many defenders as you want. You can also do a similar trick against
Queen Daenerys's Horde (TWot5K)
in order to make it so you can defend the attacks even without a
Queen
.
Ser Lancel Lannister (CtB)
Does Lancel stop characters from navaling into a challenge (with a printed cost lower than the number of House Lannister attackers)? Yes, he does. His effect stops the defender from declaring defenders, and using the Naval Enhancement doesn't bypass the declaration, it just means you can declare defenders outside of the appropriate framework for doing so. This is another way the Naval mechanic differs from our friend The Greatjon.
Note:
this also applies to cards with similar "cannot be declared as defenders" abilities like

Wex Pyke (KotS)

,

Balon Greyjoy (KotS)

,

The Fox's Teeth (TWot5K)

, and so on.
Rhoynar Emissary (AHM)
Now this one's complicated, so much so that we sent a Raven to Archmaester Damon himself for confirmation. The answer is that it
does not matter how
a character enters the challenge,
so long as they are declared as a participant by the end of the framework declaration step
. In other words, if you are the attacking player, your character who has been targeted by Rhoynar Emissary
must
enter the challenge during the "declare attackers" framework step (or be discarded from play), meaning that Navaling him in is not an option. If you are the defending player, your character who has been targeted by Rhoynar Emissary can
either
enter the challenge by use of the Naval Enhancement during the first player action window*,
or
be declared during the "declare defenders" framework step (or be discarded from play). One can assume that this definition isn't specific to Naval Enhancements and that if future methods to declare a character as an attacker or defender during that first player action window arise, this would apply to them as well, making Rhoynar Emissary a true sphinx of a card.
*Assuming the Emissary hasn't been combined with Dragon Sight, of course!
Desolate Passage (TRS)
This one's refreshingly simple after our friend, the Emissary - using the Naval Enhancement counts as declaring a challenger, so you cannot declare a challenger normally and through Naval. In essence, this card is a pretty good way of closing out Naval shenanigans and the whole
Black Sails (RotK)
Agenda for a turn. The wording also seems to imply (this has not been confirmed, so take it with a pinch of salt) that you cannot declare both an attacker and a defender in a challenge (only one, not one of each), which does not matter greatly, except for trying to trigger Black Sails on defense.
Orell the Eagle (ASitD)
Does Orell prevent Naval defenders before the "declaration of defenders" framework? Yes.
Does he prevent Naval defenders after, if there's already two defenders declared normally through the framework? No.
NOTE: Updated 8.5.2013, see comments for details.
Lead by Example (ARotD)
This works similarly to Orell. A player has to first declare two attackers or defenders via the normal Frameworks, before characters can be Navaled into the challenge.
NOTE: Added 8.5.2013.
Cowed (THoBaW)
Can a Cowed character be be declared as an attacker or defender through the Naval Enhancement? No. How about if there is someone else already participating in the challenge? Again, no. Cowed's constraint is
not
on whether the attached character would be the only attacker or defender, it's on whether the character can be declared in a window in which no other character is declared.
NOTE: Updated 8.5.2013 to remove comment about being similar to Orell.
Naval Superiority (TGF)
A question that the students have been pondering a lot recently is "if you declare a Naval Attacker who is subsequently removed from the challenge, is your claim still raised by 2?" The current best answer is: No. The raising of claim is a constant, conditional effect. It is constantly checking whether the condition for raising the claim is met or not (in this case having a Naval Attacker declared in the challenge). The moment the character is no longer participating in the challenge, the claim is no longer raised. The card could certainly be worded better in this regard, but it essentially functions in the same way that Black Sails does in this regard. This topic has been discussed on the FFG Rules Forums
here
, and if any contradicting information surfaces, we'll update it here as well.
There are plenty of other cards that interact with the Naval Enhancement. If you have any queries about specific cards not addressed here, or any other questions on how the Naval Enhancement works, feel free to ask them in the comments section. There's also at least one more Sandsnake in the garden that we're hunting down... a question regarding the precise interaction between
Lead by Example (ARotD)
and Naval has been submitted to FFG, and the answer will be posted here when available.
Questioned by the Conclave
Questioned by the Conclave is a series of quizzes for our readers, loosely based around the topics of the Issue in question. Correct answers will be posted in the comments, after enough readers have had their chance of testing their knowledge. The difficulty of the questions will vary from those directed at Apprentices, to those best suited for Archmaesters.
1. Why can't you initiate a power challenge with a paltry

Exiled Knight (TBC)

, have him bounce due to your

The First Snow of Winter (ODG)

plot card but then Ambush in

Drogon (QoD)

using

Balerion (TPoL)

and Naval him into the challenge?
2. The Martell player is down on his lack of Naval Enhancements, but he's come up with a solution. If the opponent tries to Naval in any character, he'll simply remove them again with

Lhorulu (THoBaW)

. What's the flaw with this plan?
3. Our valiant Greyjoy player is in trouble. He's on 14 power, but so is his opponent, the fiendish Baratheon player who ruined our Greyjoy player's most well-laid plans with a timely

Knights of the Storm (KotStorm)

. The Baratheon player is knelt-out, but still has the Knights of the Storm standing, and an astonishing 8 gold in her gold pool. All the Greyjoy player has standing are his

Herald of the Sea (SB)

,

Apostle of the Drowned God (RotK)

and

Walder Frey (ACoS)

. He's set to lose this contest on dominance, no matter what he does. But can the Greyjoy player manipulate the situation so that he sneaks the victory?
4.
Can you figure out a sneaky way of triggering the
Black Sails (RotK)
Agenda with
Desolate Passage (TRS)
revealed?
Hint: Targaryen and Lannister would be your go to Houses here, but there are also one or two others that could maybe manage it...
Antti Korventausta (
WWDrakey) is a self-proclaimed Finnish AGoT philosopher and nitpicker, who also used to practice Quantum Mechanics, but found that it paled to AGoT in both interest and complexity. As a Stahleck regular and judge, he sometimes has oddly vivid dreams of understanding portions of the game. In AGoT, he'll play anything as long as it's suitably twisted... often ending up with something that has horns on it.
Helmut Hohberger (Ratatoskr) started playing AGoT in September 2010 and has never looked back (although his wife has, longingly). As a German, he loves rules - and I mean
*loves* 'em. Try triggering a Response at the end of a phase on his watch, and he'll probably invade your country. He has actually read the FAQ, and was made a judge at Stahleck 2011 and at various other events. He sometimes answers rules questions on boardgamegeek and the FFG rules board. Some of his answers haven't even been contradicted, corrected or expanded upon by ktom - there is no higher accolade for a rules board morlock.
Every Maester needs a Raven on his shoulder. As a Finn, Iiro Jalonen
(
Ire) got pulled under the waves by Krakens years ago, and has never looked back. A self-inflicted Shagga and active member of the global AGoT community, he has always strived to know the rules of the game, in order to make them do ridiculous things.
James Waumsley (
JCWamma) started playing Thrones in January 2012. Although he's not got many links on his collar just yet, he's a fiendishly competitive player who delights in making sure the rules are upheld, so that his opponents have no excuses (or in practice, so that he has no excuses himself).
Zaidkw, bigfomlof and Kennit like this
Article: Quill & Tankard Regulars - Issue 23