Welcome to Card Game DB
Register now to gain access to all of our features. Once registered and logged in, you will be able to create topics, post replies to existing threads, give reputation to your fellow members, get your own private messenger, post status updates, manage your profile and so much more. If you already have an account,
login here
- otherwise
create an account
for free today!

0
The First Tilt - Which House is For You: Greyjoy, Kings of the Sea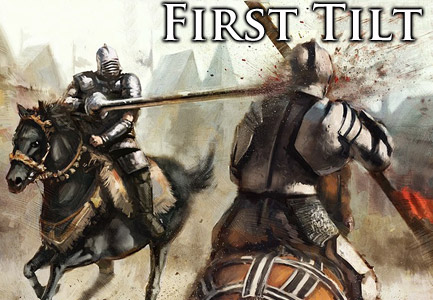 The First Tilt – Entry 8: Which House Is For You? Pt.5 "Greyjoy, Kings of the Sea"
Welcome to "The First Tilt", a blog dedicated to helping new players get their bearings in A Game of Thrones LCG. We'll be covering a wide variety of topics, from what to buy, basic strategies and tactics, and getting acquainted with basic themes. The next six articles for The First Tilt are going to be dedicated to discussing the various Houses of Westeroes and helping you decide which house is for you. This week we'll be discussing House Greyjoy, the Kings of the Sea. Time to shove off!
A lot of times I feel like House Greyjoy is the red-headed step-child of A Game of Thrones: The Card Game. If they aren't familiar with the setting and the Houses, then it's hard for new players to get a good idea of what Greyjoy really is. First impressions are usually along the lines of "They're Stark with Stealth" and they aren't usually impressed with Greyjoy at first. This comparison is true to a degree, but Greyjoy has so much to offer Military minded players. They also have a lot to offer everyone else for that matter, as you'll soon learn.
House Greyjoy is the power of the Iron Islands. After the conquest of Aegon Targaryen I, House Greyjoy was elected by the other Houses of the Iron Islands to become the Lords Paramount. Because of their relative isolation, the Greyjoys are culturally very different from the rest of Westeroes. They are a hard folk, who get most of what they need through raiding and piracy. They tend to view the people of Westeroes (which they call the Green Lands) as soft and weak. They have their own unique religion and are slightly xenophobic. Twice the Greyjoys have risen up in rebellion, the first immediately after Robert's Rebellion and was quickly quelled by Eddard Stark. The second rebellion lasted longer, with the Greyjoys sacking several castles on the mainland, including Winterfell. The Greyjoy words are "We Do Not Sow".
Play wise, House Greyjoy favors aggression. If you want to play Greyjoy and play it right, then play aggressively. With their House Keyword of Intimidate and plenty of Stealth, Greyjoy can keep the pressure up. Intimidate is a fun Keyword; any character with strength less than the Intimidate characters strength does not count its strength toward the challenge. So, I attack you with a strength 3 character that has Intimidate and you defend with 3 characters, the first defender has 2 Strength and the others have 1 Strength each. I would win the Challenge since all of your Characters have less strength than my Character. Crazy, right? Combined this with the abundance of Stealth that Greyjoy has and you will be winning Challenges left and right.
[lightbox='got/euron-crows-eye-tgm.jpg']got/tn_euron-crows-eye-tgm.jpg[/lightbox]
Let's talk a little bit about themes. Greyjoy has two themes that I'm very fond of and have employed to great success. The first theme I'll cover is the Raider theme, from the
Brotherhood Without Banners cycle
. Raiders is a highly aggressive theme that hits your opponent on multiple levels. Many of the Raider cards have multiple effects for winning challenges. Many have Stealth and Intimidate, and the War Crest, and if they win a challenge, have secondary effects. Most of these effects are discard effects, which stack on top of each other get stronger if you have several Raiders in play.
Euron Crow's Eye (ASoSilence)
is particularly useful, he is a Raider when he attacks he gives Raiders Stealth and prevents opponents from playing Event cards.
Euron's Enforcers (DB)
has Intimidate and gains +1 for each Raider in play.
Called to Arms (CbtC)
provides a losing situation for your opponent all around.
The Raider theme is supported greatly by the Warship theme. Warships are excellent because they always have useful abilities. Since there are several Warships, I'm only going to discuss a few of them.
Longship Silence (ASoSilence)
and
Longship Iron Victory (KotS)
are great for providing bonuses and card draw.
Scouting Vessel (KotS)
is great for challenge control. Warships have some amazing abilities but I'll leave that to you to research on your own, for now.
Let's move on to the other theme I want to discuss: Holy Discard. Back in my freshman year of college, I was having a blast. I had moved away from home and started cool. Found a local group that played Magic and I was tearing it up. I had a Mill/Control deck that was completely foreign to this meta, and I dominated for weeks. Mill is a concept from Magic (named after the card
Millstone
) where you attempt to discard cards from your opponents deck forcing him to draw from an empty deck and lose the game. Years later, when I transitioned to L5R, I was disappointed to learn that there was no real Mill option. I love the Mill approach, and was excited to learn that Greyjoy had a very strong Mill theme, Holy Discard. Using cards like
Drowned Disciple (KotS)
and
Raiding Fleet (AKitN)
, you mill through your opponents deck. It's called Holy Discard since a majority of the Characters are priests of the Drowned God and have the Holy icon.
Aeron Damphair (KotS)
is great for getting those Drowned Disciples out and keeping the Mill turning.
Drowned Fanatic (WotN)
discards 2 when you win initiative and combine that
Ahead of the Tide (WotN)
and you have a powerful combo. Consider that most of the Holy Characters have the Intrigue icon, then you can keep up the pressure even more by not only attacking your opponents deck but his hand as well.
Baelor Blacktyde (TIoR)
is great with this theme because he prevents opponents from playing copies of event cards that are in their discard piles, and
Corpse Lake (TBC)
can gain you up to 3 power a turn from milling your opponent.
Greyjoy also has the Choke strategy and some very powerful Winter strategies, but we'll discuss those further down the road. Right now, just remember that Greyjoy is an aggressive House that favors aggressive players.
That will wrap it up for this week. Before you sail off into the sunset, let me remind you that we'll be finishing up next week with House Martell, the Princes of the Sun. See you in Dorne!
Thanks for playing along,
Ben
Article: The First Tilt - Which House is For You: Greyjoy, Kings of the Sea