Welcome to Card Game DB
Register now to gain access to all of our features. Once registered and logged in, you will be able to create topics, post replies to existing threads, give reputation to your fellow members, get your own private messenger, post status updates, manage your profile and so much more. If you already have an account,
login here
- otherwise
create an account
for free today!

1
Wolves of the North Review Part 2
Apr 08 2016 11:00 AM | scantrell24 in
Strategy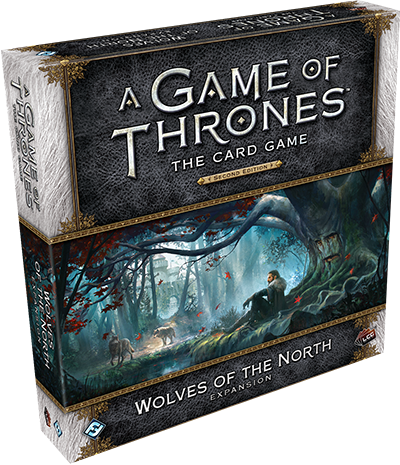 "King Robb has won every battle," Brienne said stoutly, as stubbornly loyal of speech as she was of deed."Won every battle, while losing the Freys, the Karstarks, Winterfell, and the north. A pity the wolf is so young. Boys of sixteen always believe they are immortal and invincible. An older man would bend the knee, I'd think. After a war there is always a peace, and with peace there are pardons."
Our staff has put together a first blush analysis of the newly released "Wolves of the North" deluxe expansion. If you missed part one,
here are the Stark cards
. Cards are listed in numeric order and scored on a scale ranging from one through five, with five being the best possible score. We have 5 reviewers this time around, so the maximum overall score is 25 points.
Now onto the reviews, starting with....
Motley (19 Total Points)
Barnie25 - 4 out of 5
This card is going to give people headaches. In a banner package to a intrigue heavy faction you can rid them off most of their hand over the course of the game. In intrigue weak decks like Baratheon it gives them the ability to pressure their opponent's hand. Non-loyal, non-terminal and non-unique... superb.
emptyrepublic - 4 out of 5
Quite an elegant solution for Baratheon to get some extra discard on opponents without having to resort to intrigue. We'll see what the Fool trait imparts down the road; as it stands that ability seems superfluous. The big plus is that it's a non-terminal negative attachment.
OKTarg - 4 out of 5
Negative attachments are very strong, IMO, and I'm always looking for ways to control high-cost, high-STR guys like Tywin. (Basically just Tywin, let's be honest). It's not so brutal as perhaps it first seems since the player can always just pay the cost if they wish, but that will start to add up after awhile.
scantrell24 - 4 out of 5
3x Milk and 3x Motley could be brutal, no? Your opponent can only Confiscate one. Unfortunately, like icon-stripping in Bara Sun, there's anti-synergy for decks that want to win dominance, as any character that doesn't participate in a challenge will swing dominance against you. The other problem is that once your opponent's hand is already empty, Motley does nothing.
LaurenF - 3 out of 5
It's 1 cost, non-unique, and helps with a Baratheon weakness (the intrigue challenge). However, it competes with Milk of the Poppy and it's not clear whether it's better than that card.
Even Handed Justice (20 Total Points)
Barnie25 - 4 out of 5
I believe this card to be more of a Lannister card than a Baratheon card. The high cost and it being non loyal makes it hard to afford but the effect is certainly powerful. Though Bara Lion decks will really love this card, basically Tyrion OP.
emptyrepublic - 4 out of 5
An expensive event to manage tempo but can have a big impact in melee. Potentially a good counter play or synergistic play (depending on perspective) on a First Snow of Winter turn. Also, since it's not phase constrained it can be timed for maximum impact during a challenge.
OKTarg - 4 out of 5
Man, the cost is a bit high, but again--control of any character is quite nice. I can't quite go to a 5 since there will be times your board state makes this difficult to pull off, but I think two in most Bara decks will be standard for awhile.
scantrell24 - 4 out of 5
Bara decks may have hit the Shadowblack Lane and/or Tourney Grounds threshold, with one more solid event added to an already strong in-faction lineup. Anything that contains Balon is good in my book.
LaurenF - 4 out of 5
This is a very costly non-loyal event, but its effect is strong. Note that kneeling your own character is part of the effect, not the cost, so if the event is cancelled your character will remain standing.
Fishwhiskers (17 Total Points)
Barnie25 - 4 out of 5
This might turn into a true lynchpin card as more winter plots are released. We all know how irritating Balon is, Fishwhiskers is his little brother and together they will torment us.
emptyrepublic - 3 out of 5
Going middle of the road on this one because his ability is highly dependant on meta behavior. The Stark box is bringing in a lot of new season tech so things need to shake out on that front. Additionally, in melee I'm foreseeing you struggling to get him to work at all or having him work all the time, again meta will dictate this. This is a card that will need a revisit later.
OKTarg - 4 out of 5
Easy unopposed and an easy challenge win if a simple condition is met? Nothing the opponent can do unless they have a control effect of some kind? Man, that seems QUITE good. I haven't worked out the plot lineup that will be needed with this guy, but suffice to say Winds of Winter seems like a good start.
scantrell24 - 3 out of 5
He's relatively expensive for the strength and icons, and requires dedicated deck-building, but that's one potent ability. I think 3 Winter plots are enough. You generally won't open with one, and you generally won't marshal Fishwhiskers early anyways, so by the 2nd round, half your plot deck will be Winter. A lineup of First Snow, The Long Winter, and Winds of Winter looks like a brutal attack in the mid-game.
LaurenF - 3 out of 5
Greyjoy already likes First Snow of Winter, and Fishwhiskers will stay on the board that turn and guarantee an unopposed military (unless your opponent has flipped Calm Over Westeros!). Otherwise he won't be doing much most turns. Probably a 1X in decks that are focusing on unopposed challenges.
Ahead of the Tide (9 Total Points)
Barnie25 - 1 out of 5
I can't imagine ever playing this card in Joust, perhaps in Melee but I rate cards mostly on their Joust value. When DWDW gets reprinted this might go up in value (a bit).
emptyrepublic - 2 out of 5
I'll be honest. I'm not super familiar with Greyjoy's play style, but my sense is that they care more about unopposed than going first. Also, my sense is that their draw isn't so bad that this would be clutch for them.
OKTarg - 2 out of 5
It's better in melee, and while cantrips are nice, I just don't think I will want to devote non-setup space to this card. It won't even guarantee initiative like
the 1.0 version
; it'll just make it closer. Meh, I don't think I'd slot it (even if I did play Greyjoy

)
scantrell24 - 2 out of 5
I'll pass until
Dark Wings, Dark Words
returns. I don't have deck space for a non-setup card that's so marginally useful. Sure, occasionally you can turn an initiative loss into a win, but more often Ahead of the Tide will sit impotently in hand, or you'll trigger it when you're already winning initiative anyways just to see a replacement.
LaurenF - 2 out of 5
You would only play this card on a turn where you knew the +3 initiative would be enough to win it, since you can see your opponent's plot before you play it. However, Greyjoy already plays high initiative plots. Maybe it's there to facilitate adding Snowed Under to the plot deck? I don't see a lot of deck space for this card.
Crossroads Sellsword (6 Total Points)
Barnie25 - 1 out of 5
This is a card that you would like to see in draft, and only in draft.
emptyrepublic - 2 out of 5
Not sure if I'd ever include these guys in a deck, but I can see possibilities where you want to create income outside of marshalling and Tyrion isn't available for whatever reason. Useful for potential jank in the future; not useful right now.
OKTarg - 1 out of 5
Cheap bicon weenie who exist to give me gold in the challenge phase, even though I have Tyrion and Brothel Madam who already do that, and the Red Cloaks who are a better character while in play. No thanks.
scantrell24 - 1 out of 5
Mediocre and unnecessary.
LaurenF - 1 out of 5
These guys are too expensive for a character that only exists to die. You can't get the gold if they die to Wildfire Assault, but you won't want to save them either.
Tower of the Hand (23 Total Points)
Barnie25 - 5 out of 5
This has the potential to become a meta defining card. It gives a totally different dimension to the game, much more tempo oriented and potentially frustrating to play against. This card can propel high gold plot decks to new heights, being able to play high cost character each turn while bouncing characters from your opponent and then having the possibility to discard them. Really strong.
emptyrepublic - 4 out of 5
The cost restriction prevents this from being entirely broken, but it's super strong nonetheless. Given Lannister's ability to jump in characters through several event options the return to hand effect is more of an advantage than penalty. If Lannister gets an 8 cost intrigue army then people should start getting concerned.
OKTarg - 5 out of 5
This card straight up terrifies me. It gets around the downsides of the enters-play events (bounce Tywin in with Hear Me Roar, then bounce him safely back), and even without them, helps leverage Lannister's already-crippling advantages in Intrigue and Economy. I wish it didn't exist. People will say that it's not as busted as
1.0 Ghaston Grey
, which isn't saying much! But in this different environment, it may as well be. I wouldn't be surprised at all to see the first Restricted List be this and Tywin. Is all this Fear-mongering over the top? Nope.
scantrell24 - 4 out of 5
Three gold is a steep price, and the ability is rather limited in scope (non-loyal but only works with Lannisters), so I can't give Tower of the Hand a 5 despite the versatile ability.
LaurenF - 5 out of 5
This reaction takes place before intrigue claim, so the character targeted with Tower of the Hand could end up being discarded. It should probably have required a faction card kneel so that this and Shadowblack Lane couldn't be triggered on the same challenge. Lannister frequently wins intrigue challenges with Cersei or Tyrion so that gives them a lot of room to send a great character back to your hand.
Quentyn Martell (16 Total Points)
Barnie25 - 3 out of 5
This is a really interesting card. Being able to reliably win initiative is quite difficult when you can win it often enough his body becomes strong when you can't he is mediocre. His interrupt has a lot of potential but is wonky and unreliable but a nice boon nonetheless. His traits are favorable that can work in his favor.
emptyrepublic - 4 out of 5
In my view, a card made for the melee environment. You are less likely to be first so you get a strong bi-con. The interrupt is not constrained so you have a wider array of targets on the board. Don't think he's that practical in joust.
OKTarg - 3 out of 5
This is a weird card, but I have found in my Martell Main decks that I don't have any good characters at the 6-slot who can push challenges. Maybe Q's stealth can do that for me, and he's pretty good on the way out, though I sure hope my 6-drop doesn't die that much!
scantrell24 - 3 out of 5
Meh. Targeted kill is great, but you won't often nail a game-changing target because of the strength restriction, and six is a lot to invest in a character that's meant to die. Compared to other stealth bi-cons like Asha and Tyrion, who are both one gold cheaper, he pales in comparison.
LaurenF - 3 out of 5
Playing Quentyn will require the Martell player to revamp their plots decks. Despite their cards' synergy with going second, Martell's favorite plots, like The Long Game, Counting Coppers, and Game of Thrones, all have fairly low initiative. If your opponent makes you go first Quentyn is fairly bad. It's been noted that you won't get to trigger his Interrupt if he dies to Dracarys! Because he'll have 0 strength.
His Viper Eyes (17 Total Points)
Barnie25 - 4 out of 5
This card is cheap and efficient. It is easier to trigger than people might think and having information about your opponent's hand is vital in this game. Being able to discard their best card and understand what options they have for the next turn is vital. I am looking forward to running 3 Seen in Flames and 3 times this card even if its only for the artwork alone.
emptyrepublic - 3 out of 5
It's okay, but in my view there's an issue. The rules require that the first player have first opportunity to initiate reactions. The event is reacting to military/power so (most likely) either you are trying to prevent Put to the Sword or Superior Claim (maybe) from being played. The issue is Martell tech rewards you for NOT being first player. You can't use this event to pluck PttS/SC if you are second player. So what gives? It's not a useless event but it runs counter to a lot of established Martell tech.
OKTarg - 4 out of 5
I like this a lot. Hand knowledge is worth a TON when you are trying to figure out if you can afford to lose a challenge, and it's card parity numerically. It's no Seen in Flames (thank goodness) but it has a ton of utility. Free events are gold, especially ones with a solid effect.
scantrell24 - 3 out of 5
His Viper Eyes may see more play in Banner packages than in House Martell. I'll certainly test a couple in my Greyjoy Sun deck (which wants to play first). Lanni Sun likes it too, combined with bounce effects like Things I Do for Love and Tower of the Hand.
LaurenF - 3 out of 5
I agree with emptyrepublic. A further problem is that the military challenge is often initiated before the power challenge, and it's the higher stakes challenge. If power were done first you could at least let it go though, then play this event and look for the Put to the Sword, but it's unlikely your opponent will make challenges in that order most of the time.
Stonesnake (10 Total Points)
Barnie25 - 3 out of 5
The ability for NW to get renown is quite decent. He is overcosted but stealth and the ability to get renown for me alone is enough to consider him.
emptyrepublic - 2 out of 5
The day Night's Watch becomes a more aggressive house then maybe he becomes more viable. If he removed the keyword then it would be a bigger deal. Right now just don't see him being worth it. Maybe if he was a bi-con.
OKTarg - 1 out of 5
A five cost monocon in the challenge that NW was already fine in? An ability that helps prevent unopposed (with his native stealth) but promotes attacking in a faction that couldn't care less about attacking? An ability that doesn't even cause the other character to lose what StoneSnake gains? No thanks, I'll play Benjen and Ghost first.
scantrell24 - 2 out of 5
If the gold cost were one cheaper, or if Stonesnake had another icon, he'd be a fine card. I do like that ability, but the stats simply aren't good enough.
LaurenF - 2 out of 5
As noted, Stonesnake needs something additional to justify his high cost.
The Shadow Tower (20 Total Points)
Barnie25 - 3 out of 5
This card doesn't excite me, I don't really like playing defense tech cards. It helps bolster the defense theme but it's not a theme that NW has the most (or any) succes with at the moment.
emptyrepublic - 4 out of 5
I think this will be a very good tool in the Night's Watch toolkit. It's equally potent in melee or joust as it helps you stall an opponent with a high cost renown character. Just remember that you have to win, not just oppose.
OKTarg - 4 out of 5
I don't play NW so I'm basically guessing, but I think this card would be awful to play against. It helps promote NW setups, already strong, so I think this is a decent one-of in several decks. Might be nice combined with For the Watch! and the Watcher on the Walls.
scantrell24 - 4 out of 5
1 copy in most Night's Watch decks forever (deluxe boxes don't rotate like chapter packs). I love cheap utility locations that repeat turn after turn.
LaurenF - 5 out of 5
This is a great card for the cost. It's also non-loyal! I can't wait to play this in a deck with Ours is the Fury for maximum fun.
Aggo (19 Total Points)
Barnie25 - 4 out of 5
Reasonable icons and strength for it's cost. This card can only become better, this card has a lot of potential. I expect this card to get more traction in the next cycle when more summer plots will be released.
emptyrepublic - 4 out of 5
Another character that will very likely thrive in melee. Calm Over Westeros is popular. I'm confident Song of Summer will be popular. There's season tech coming out. The point is it's going to be easy to activate his ability; certainly in melee, very likely in joust as well.
OKTarg - 4 out of 5
He helps bring a needed icon spread to Dothraki and the mid-tier Targ costslot. Some decks will want Illyrio; others will want Aggo. He's not enough to make Rakharo worth it (yet) but we're getting closer. Oh, and summer plots? They're good

They have lots of gold, which Targ will want.
scantrell24 - 3 out of 5
We're still missing pieces to the Dothraki puzzle. If there's another Bloodrider that's a better stand candidate, Aggo's value improves. For now he's fine, but nothing earth (Westeros?) shattering.
LaurenF - 4 out of 5
Aggo is decently costed, good icons, and has a potentially good ability. We'll have to see how many Summer plots Targ decks end up running. I think many right now eschew Calm Over Westeros for Rebuilding, but I could see swapping Calling the Banners for Summer Harvest when it comes out.
Dragon Sight (16 Total Points)
Barnie25 - 3 out of 5
The card on its own isn't all that interesting but the ability to stack can become strong. At this point I think that there are better options right now than Dragon Sight. In the future this might become a staple.
emptyrepublic - 3 out of 5
I'm sure someone will be more than happy to explain to me how this stacked with Dracry's stacked with Danny and so on will take anything down. Yes, that's true in an academic sense. In the real world that combo is expensive, dependant on deck variance and your opponent not having cancels or tricks of their own. It's not a useless event, but it's very low impact on its own and requires help.
OKTarg - 3 out of 5
Leave it to the Targ player to underrate all the burn cards, right? It's nice if you can stack it, but if you can't, it's not worth that much at all. Perhaps it will help inspire fear in your opponents, and it's nice to be able to draw with Shadowblack Lane, but, honestly, when will -1 or -2 STR in a challenge be enough to justify slotting this over another event? (OK, Ok, if stacked with stuff. And every piece we get makes burn more scary, but, on its own, it's not that great)
scantrell24 - 3 out of 5
Here we go again with death by a thousand cuts (burns?). So far there are four terminal kills that combine with Dragon Sight -- Blood of the Dragon, Plaza of Punishment, Crown of Gold, and Dracarys. Dragon Sight improves dramatically if and when we see any more. But even without a terminal burn combo, it can still swing close challenges in your favor.
LaurenF - 4 out of 5
This event is like
Forever Burning
from First Ed, except it applies to all participating characters rather than one. That card was good! How often have you won a challenge by 1 STR, or on a tie as the attacker? This card will work not by killing characters, but by surprise-winning challenges.
House Florent Knight (15 Total Points)
Barnie25 - 3 out of 5
This card is difficult to judge on face value. When you look at this card for the first time it looks really awful but the ability to get rid of small characters can prove useful in high military decks. If you can get rid of the small stuff before this comes into play even better. As with the Sellsword this card seems like a card that you would play in draft.
emptyrepublic - 2 out of 5
Strikes me as too expensive for an effect that will be difficult to time. This is worse in melee because you can't control which character will be affected. You want removal on a specific opponent typically. Not just arbitrary removal. Would have been much better if you could at least specify the opponent (or if it was much cheaper). Perhaps 3 out of 5 for joust.
OKTarg - 4 out of 5
Let us never underestimate removal, no matter how conditional and seemingly innocuous it seems at first glance. I'm sure it won't see as much play as a 4 indicates, but better safe than sorry, right?
scantrell24 - 3 out of 5
Florent Knight sure looks overcosted by 1. I mean, compare this to Grey Wind, who is repeatable, more flexible in timing, and not forced so he can't backfire.
LaurenF - 3 out of 5
The ability is good and can be timed to your advantage, however the 5 cost, 3 STR is a huge turnoff. On the other hand, he stays in play after First Snow, which is great right now, but you won't mind too much if he dies to claim. You also can use his ability if he enters play via The Queen of Thorns' ability.
To the Rose Banner! (8 Total Points)
Barnie25 - 1 out of 5
I don't see this card seeing play anytime soon. Sure you can get rid of a milked character or something but I would rather not play bad cards and commit the spots to more useful cards. This might have a place in some high aggro, rush or combo deck but for now it has no place.
emptyrepublic - 2 out of 5
Feels like a card to enable rush but I'm not seeing how I could use this. You are getting gold 1-for-1 from STR and since it's played during marshalling you are likely only dealing with printed strength. Is a card slot plus a sacrificed character worth 2-3 gold? I'm not seeing it right now. Will let the meta decide this in the long run.
OKTarg - 2 out of 5
This is a weird card. It seems good-ish in certain cases, but wouldn't you rather just play something else? Those 'good' cases include when someone is milked or knelt, but….meh? I suppose it's also good to ramp up quickly to a 7-cost dude, but I'll need to see it in play. I prefer events that disrupt my opponents to ones that consolidate my board, so perhaps I'm biased or seeing it wrong here.
scantrell24 - 1 out of 5
In the best case, you sacrifice Hobber Redwyene or Olenna's Informant or something that already did it's job. But even that's underwhelming, leaving you at -2 cards in exchange for a few gold. This pales in comparison to In Doran's Name.
LaurenF - 2 out of 5
Maybe Tyrell will get some monstrous combo that will make this event good, but for now I'm not seeing it.
Mance Rayder (15 Total Points)
Barnie25 - 4 out of 5
Most people know my love for renown and a neutral renown character, a tri-con even that will always peek my interest. Him being a king but not a lord kind of hurts his rating. But I think that his ability his a bit underrated, ambushing in Wildling Hordes for 4 or a Rattleshirts Raiders for 3 is strong.
emptyrepublic - 3 out of 5
I'm going to be neutral on this neutral *rimshot*. It's a renown tri-con available for all, but at the seven cost slot. If you don't like the 7 cost characters in your favorite house then this might be a reasonable alternative. Otherwise the card base is not there yet for his ability to be that useful. Let's see where we are a year from now.
OKTarg - 3 out of 5
Tricon Renown is good, but I'm not sure the Wildling deck is there yet. I may actually like this guy pretty well in Martell Crossing. I'll have to see if he fits….
scantrell24 - 2 out of 5
With the current cardpool, he's unplayable. Even once we see a few more Wildlings, you'll have to find Mance, pay for him, keep him alive, and you're constrained by the Winter plot restriction get the full benefit. Seems like a lot of work for a marginal benefit.
LaurenF - 3 out of 5
7 cost neutral card -- ouch! At least his stats and ability are good. This card will probably improve over time, especially as more economy is released that will let you reliably get him and the other Wildlings on the board.
Young Spearwife (11 Total Points)
Barnie25 - 2 out of 3
This is the Burned Men of the Wildling package, high renown decks might like this card to have a cheap stealth character, non unique and being able to wield attachments is a plus.
emptyrepublic - 3 out of 5
As I see it she seems the most useful in renown heavy rush decks. Power tends to collect on characters instead of the house card so getting that stealth is easier. Future value could be found if Wildings get icon gains of any sort similar to Night's Watch.
OKTarg - 3 out of 5
There was one of the old Two Champs, One Chump episodes where they had all of the designers on to talk about the game, and one of the first CCG designers said that his biggest regret of a card they printed was "Shadowcat" which was a monocon MIL with stealth. I found that quite weird, but he felt that cheap stealth morphed the challenge phase too much. Ever since then, I've tried not to underrate Stealth. That said….3 for 2 monocon with conditional stealth? Usually, I'll pass I think.
scantrell24 - 1 out of 5
Just awful. We aren't hurting for cheap neutrals anymore, between Hedge Knight, Wildling Scout, and the next card. Of course, more Wildling support can (and probably will) turn this rating around.
LaurenF - 2 out of 5
Most decks aren't hard up for military icons. Horrible stat line on a card that goes away during a First Snow turn. Yikes.
House Maester (20 Total Points)
Barnie25 - 4 out of 5
Lannister will like this card as it gives them access to a cheap power icon chud and being a Maester is only a positive thing. It will help Crossing decks with their icon spread as well.
emptyrepublic - 4 out of 5
A very good cheap chud that is helping lay the foundation for the return of Maester decks. Not filler for any deck, but solid low cost material.
OKTarg - 4 out of 5
Night's Watch will love this guy as a cheapy bicon, and I think even Lannister and Targaryen will be happy to get a few icons in at the lower end of the curve. With a positive trait, not too much wrong with him!
scantrell24 - 4 out of 5
Already worth considering in Night's Watch, Stark, Greyjoy and maybe even Bara and Targ. Future Maester-trait support only improves thus rating.
LaurenF - 4 out of 5
Excellent low-cost character.
Tourney Grounds (16 Total Points)
Barnie25 - 3 out of 5
I am interested to see how much value this card will have. If you can get it out early than it has good value I like this card in Baratheon being able to afford their strong but expensive events.
emptyrepublic - 3 out of 5
I peeked at OKTarg's comments on this one and I'm more or less in agreement. I would add that second edition is clearly structuring its economic curves differently than first (if you haven't yet noticed). This location creates space for more event heavy decks without having to rely solely on gold generation. Like several cards in this box we are going to have to see how this card plays out in the real world.
OKTarg - 3 out of 5
There is no way to predict how non-limited economy will work out going forward. It seems pretty swingy, though, and I can't see it replacing Roseroad for me in most decks. It's possible that the ability to kickstart your economy faster and the setup advantage garnered by extra cheap locations will pay off. Who can say? Not me, so I'll give it a three.
scantrell24 - 3 out of 5
Tourney Grounds will improve dramatically if/when we see agendas that promote high event density, like first edition's Dark Wings, Dark Words and
Knights of the Hollow Hill
. I think it fits into a few decks now, alongside Shadowblack Lane, but most decks that want money for events will continue using Tyrion.
LaurenF - 4 out of 5
Hey, it's a card that makes Even-Handed Justice more playable! Nice. I look forward to telling people they can't use this to reduce Interrupts or Reactions unless they've triggered it ahead of time.
Green Dreams (20 Total Points)
Barnie25 - 4 out of 5
The ability to Scry as its called in MTG is very powerful. This card improves your setup considerably, allows you to filter your draw and acts as a way to protect you from effects like The Seastone Chair.
emptyrepublic - 4 out of 5
This card will reward savvy players who develop well thought out decks. This strikes me as a critical attachment for insight characters. Find out what you are going to draw and decide if you want it or not.The ability to mitigate simple top decking is huge.
OKTarg - 5 out of 5
I'm sure I will regret overrating this, but let's look at some things about Thrones that this helps with: (1) juiced setups and cheap protection from effects like Seastone Chair (2) ability to filter and grab your quailty cards faster (3) workaround for other effects, like Gregor and I Never Bet Against My Family. I LOVE Bear and Maiden Fair for searching for Dany, and I think Green Dreams just straight replaces those and makes my deck more consistent. Yes, please.
scantrell24 - 3 out of 5
Obviously you want Green Dreams on characters like Asha and Daenerys, who can stand and then kneel again multiple times per round. It's nifty, and gives pseudo-draw to draw-poor Houses. Anything that reduces variance is worth considering .
LaurenF - 4 out of 5
Zero-cost positive attachment? Yes, please! The question is how many to run. Seeing one is great, but even though it's non-unique, I don't think you want to see extras. 1-2X is probably the right number.
Healing Expertise (11 Total Points)
Barnie25 - 1 out of 5
At the moment this card is unreliable and unplayable. You can run 12 Maesters in a banner deck but do you really want to run 12 Maesters in the current environment? In the future perhaps, for now, nothing.
emptyrepublic - 2 out of 5
I think it's going to be a while before this is really any good. This can be canceled. Duplicates can't. Duplicates can save against any removal effect. This cannot. This can't be placed on setup while a duplicate can. This card might have a place one day, it's not useless, but I can't see it taking space now.
OKTarg - 1 out of 5
I would need a LOT more maesters in my decks to make this worth it. Like, a lot.
scantrell24 - 3 out of 5
Like with Risen, it can be cancelled by Hand's Judgment for 0 gold, and then you're in trouble. But I like more options for Voltron/tower builds to protect their key characters.
LaurenF - 4 out of 5
The future potential on this card is very high. Zero cost means you could trigger it in plot phase if and when Valar Morghulis is released.
Tithe (6 Total Points)
Barnie25 - 1 out of 5
This card will be binder fodder till the end of time. There aren't a lot of neutral characters that you want to run at the moment and if you run them you aren't kneeling them for 2 gold. A wasted card slot.
emptyrepublic - 2 out of 5
I'm not going to rate it into the ground even though the global meta might hate on it. We know Dark Wings Dark Words is coming back. Wildlings and maesters are coming back and will be neutral heavy. This event will never be an auto include but I don't think it's destined for the binder forever.
OKTarg - 1 out of 5
I feel like it's a weird To the Rose Banner that I like even less. It might be kind of good in a winter wildling deck, but probably not. I'm sure I underrate the non-limited Kingsroad aspect of this card, but….meh.
scantrell24 - 1 out of 5
No, you cannot kneel your opponent's neutral character. It's phrased do X to do Y, so X is the cost, and you can only pay costs with cards you control. Frankly though, I wish FFG had worded Tithe so as to allow kneeling an opponent's neutral, as the current version is garbage.
LaurenF - 1 out of 5
Event slots are so tight with set up being so important. Dedicating event slots to economy seems like a good way to slow your deck down, especially when they require kneeling a character.
Fallen from Favor (19 Total Points)
Barnie25 - 5 out of 5
I might get some flak for saying this but I really like this card. The stats are insane and the effect can be mitigated. I am looking to use this plot early say plot 2 or 3, with First Snow in the meta our chuds will disappear at some point anyways saccing a reducer to this plot is something I wouldn't mind.
emptyrepublic - 4 out of 5
With new Stark tech this might be a 5 for them. The stats are bonkers good so with a little careful timing I think this is entirely useable for all the houses.
OKTarg - 3 out of 5
This card is GREAT while you're ahead, and awful while you're behind. I think I prefer Trading, but the initiative on this is just so seductive…..I can't wait to play this in a Catelyn sacrifice deck, though!
scantrell24 - 3 out of 5
Worse than Calling the Banners in most circumstances.
LaurenF - 4 out of 5
We had
a similar plot
in First Ed. It was very nice with characters that had leaving play effects. Here we have higher gold and initiative, and higher than average reserve. Could potentially win the game during plot phase with Catelyn's ability.
Snowed Under (18 Total Points)
Barnie25 - 4 out of 5
At the moment this is the go to plot for Winter decks that are looking to get reasonable gold. Being able to have good shot at winning initiative is quite strong.
emptyrepublic - 4 out of 5
The stats kind of don't matter given the ability but it strikes me a good plot to throw in for any decks that need it to be winter more frequently.
OKTarg - 4 out of 5
There are two main things I like about this card: (1) The art looks like it should be the Game Over screen from Oregon Trail (2) Five Gold and Winter trait. The ability is basically nothing.
scantrell24 - 3 out of 5
Niche card, unexciting but facilitates other card abilities.
LaurenF - 3 out of 5
Seems like a vanilla plot to facilitate Winter decks. If you don't need the trait there are better economy plots.
The Long Winter (20 Total Points)
Barnie25 - 4 out of 5
I might be overvaluing this plot but decks that will want this plot don't care about having lots of cards in their hand. Drogo loves this plot.
emptyrepublic - 4 out of 5
Only major complaint is the low reserve value. Otherwise it's a great plot to close the game or put your opponent in their place.
OKTarg - 4 out of 5
You trade a power and initiative from Winds of Winter for extra gold, and honestly, extra gold on my 2-claim turn means a LOT. So, I think I like it quite well!
scantrell24 - 4 out of 5
High claim plots get better when there's more of them, so you can apply constant pressure round after round. Stark and Targ murder decks seem the likeliest homes, with Lanni aggro in the running as well.
LaurenF - 4 out of 5
That extra gold (compared to Winds of Winter) on a 2-claim plots is so sweet. The power discard doesn't seem like much of a downside, especially when you could get is back plus one when you make your power challenge.
A Song of Summer (19 Total Points)
Barnie25 - 4 out of 5
This plot will be very interesting for swarm decks and LotC decks. It will be a mainstay in Summer orientated decks I imagine for the foreseeable future.
emptyrepublic - 4 out of 5
A perfectly good generic plot that might replace Noble Cause (depending on deck builds). Even though a Winter plot revealed turns off the +1 to characters it's likely your Summer trait is turning off stuff on their side.
OKTarg - 4 out of 5
I wish it was 5-5-1
for the nostalgia
, but I'll still likely play this quite a bit. Nice gold and a good effect for pushing Put to the Sword, which I play a lot. Would you rather have the STR boost or the claim reduction from Calm? If you have to think about it, that means this plot is good and has its place since Calm is in tons of decks.
scantrell24 - 3 out of 5
It's fine, but worse than Calm Over Westeros in most situations until there's more Summer-tech or additional "win by X" triggers. I'm glad it exists for when Burn decks reach critical mass.
LaurenF - 4 out of 5
Nicely offsets Blood of the Dragon, great gold, and the Summer trait.
Weapons at the Door (16 Total Points)
Barnie25 - 3 out of 5
This plot will give me headaches and will probably hurt me more than I would like. The ability to bounce all icon attachments and things like bodyguards will empower many aggro decks.
emptyrepublic - 3 out of 5
Why only 3 gold!? I really like this plot but it's use is going to be limited use due to the income. I think it boosts Lannister and other houses that don't rely on plot gold that much; Lannister in particular that can then intrigue away those milks or other pricey attachments.
OKTarg - 3 out of 5
Man, just not a lot of duds in this pack! Mass attachment removal is a great thing, especially with the big initiative. It's different enough from Confiscation to merit a consideration, but I can't WAIT to use it to manipulate my icon removing attachments off of some guy that doesn't matter and onto Tywin. (always Tywin) Not an autoinclude, certainly not with 3 gold, but a decent enough slot in certain cases.
scantrell24 - 4 out of 5
Fairly niche, as it only belongs in attachment-less Greyjoy or Targ decks (for now). It will improve if it can be combined with future reserve reduction and/or more cards that only target characters without attachments, like Raiding Longship and Plaza of Punishment.
LaurenF - 3 out of 5
Gives you a turn free from those pesky icon attachments, especially if your opponent has played many of them. Also gives you a chance to re-ambush Widow's Wail if you don't like who it's on, or replay Lightbringer. Low gold and a niche ability bring down the score.
Ranger's Cache (17 Total Points)
Barnie25 - 4 out of 5
This plot has a high skill cap and allows for great flexibility. Great card.
emptyrepublic - 4 out of 5
I see this card in the same vein as Green Dream. Savvy players will be able to exploit this very well. For the turn revealed it doesn't do much, but you have the choice of draw or income after you have had a chance the assess the board state and then boost yourself in the area you need for the next turn.
OKTarg - 4 out of 5
This is like a mini-long plan. I like it quite a bit, and squeezing two cards worth of draw is worth it alone in some decks. That's a TON of winter plots that I like a lot...perhaps I'll have to try building something like that in the future!
scantrell24 - 2 out of 5
When do you play this? I can't imagine opening with a 3 gold, no effect plot and totally punting the first round, which is arguably the most critical round right now. In the mid-game, Counting Coppers is better in most situations, losing 1 gold and some flexibility for 1 more card and an immediate benefit instead of a delayed one. Maybe this improves if decks want gold in the plot phase for some reason.
LaurenF - 3 out of 5
The timing means you get to draw the cards after you discard for reserve, which is a nice synergy with the Kings of Winter agenda. Still, it does nothing for you the turn you flip it. I'm also noticing a trend of low initiative in the Winter plots that could wind up being very painful.
Total Score:
62.7% (423 out of 675 possible points)
Top Cards:
Tower of the Hand 92%
Even-Handed Justice 80%
The Shadow Tower 80%
House Maester 80%
Green Dreams 80%
The Long Winter 80%
Bottom Cards:
Tithe 24%
Crossroads Sellsword 24%
To the Rose Banner! 32%
Ahead of the Tide 36%
Stonesnake 40%
If you're hungry more content, check out the list of podcasts, articles, game video and more in the
Community FAQ
. Let us know in the comments how you feel about the cards in this box, and we'll see you again next month to review the next chapter pack, Calm Over Westeros.
Article: Wolves of the North Review Part 2