Welcome to Card Game DB
Register now to gain access to all of our features. Once registered and logged in, you will be able to create topics, post replies to existing threads, give reputation to your fellow members, get your own private messenger, post status updates, manage your profile and so much more. If you already have an account,
login here
- otherwise
create an account
for free today!

1
Recrafting the Theory: Deck Archetypes (Pt. 2)
Nov 04 2015 05:10 AM | WWDrakey in
Articles
Recrafting the Theory
WWDrakey
Ire
JCWamma
Ratatoskr
AGoT2.0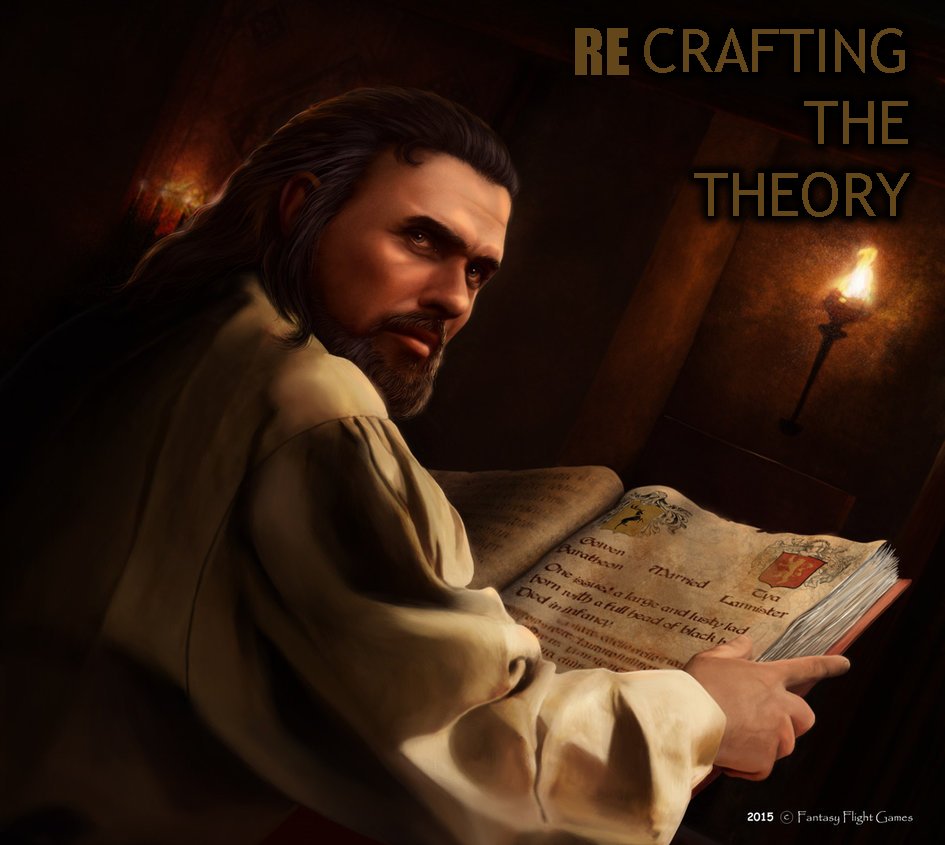 Recrafting the Theory - Deck Archetypes (pt. 2)
Finishing up the treatise
And… we're back, to finish up the last two pillars of AGoT's four-legged table. Last time our focus was on the destructive archetypes of Aggro & Control, mostly aimed more at interrupting your opponents game than building your own. This week, we look at the other two, somewhat distantly related archetypes, both of which are at least partially constructive in nature and attempting to build their own game more than mess with their opponent's.
Rush
Overall
Rush is often (mistakenly) thought of as a type of Aggro, possibly because of a large portion of the most prominent "Rush" decks actually being hybrids of Aggro and Rush, with pure Rush decks being a much rarer sight to behold. So, if Rush is not a type of Aggro, what is it? And how can you tell Rush and Aggro apart?
The key to understanding Rush lies in understanding the simple principle of 'power first, everything else second'. And that everything-part there, it contains board dominance just as much as it does toolbox solutions to problem cards or control of the challenge phase. See, when given a choice between more power, hurting your opponent or maintaining a strong board-presence... Rush will always choose power. Which really makes it the clear early game decktype. Power is the game's primary win condition after all, and that's what Rush will always work for. Another interesting quirk with Rush it that it will also often take a beating from its opponent just to generate more power on their Faction card... power that it will try to grab when given the chance. Losing ground isn't an issue, as long as it takes you closer to the finish line.
Once you start really looking at the two decktypes, you start seeing how they move in completely opposite directions. While Aggro is the deck to exert the most pressure on its opponent's board, Rush is probably the one to exert the least. Where Aggro is clearly Destructive and wants to beat its opponent down, Rush is Constructive and only wants to play its own game. The only pressure it exerts is the psychological feeling of being under a very fast ticking clock. The game will always be decided in a very finite number of moves - there are no take-backs or room for error. If anything, pure Rush is probably closer to some Combo decks than it is to Aggro.
One way of looking at Rush is to say that it's the most gutsy of playstyles. There's nothing like the feeling of first having made all the correct choices for two rounds and then top-decking on Turn 3 and hoping against hope to draw into that one card that can help you close out the game... before the black jaws of sure defeat close around your throat. Another way of looking at Rush is to say that it's the playstyle most dependent on both your deck and... well, luck. The parts will either click into place properly, or they won't... and sometimes that will dictate the whole course of the game.
As is likely obvious, the one challenge Rush decks cannot really afford to constantly lose in, is the power-challenge. If somebody is constantly bleeding away your hard-earned power, then that directly increases the time you'll need to close the game… time your opponents can utilize to either lock you out or take over the board.
The Cards
Plots - The plots for Rush-decks usually fill one of two functions, they either increase your power-gain or protect your board for enough time for you to win the game. Good resources are needed for the early plots, while claim is pretty much inconsequential.
Examples - Calm Over Westeros and Confiscation are clear protection plots, while A Feast for Crows, A Clash of Kings and… Heads on Spikes, would be Core plots with potential for leveraging in the direction of power-gain. It should be noted that Power Behind the Throne is also a very versatile Rush plot, due to it's ability to either speed up the Rush of renown character or thwart soft control like kneel.
Reset - Because of it's early game focus, Rush can just as well run with and without a Reset depending on the amount of saves it has available. It's not like you will ever have to play it if your deck clicks together...
Characters - The heart of Rush decks are really the power-gain characters - be it with renown or power-gain abilities triggering off challenge wins. Or generating unopposed, for that matter. Interestingly enough, these are usually not quite as efficient with regard to board presence as Aggro characters, since you will often find yourself paying one or two extra gold for the power-gain abilities. This is offset by the fact that most of your cheaper characters will either be ones with keywords that allow you to push through challenges, or ones with utilitarian effects.
Examples - Balon Greyjoy, The Knight of Flowers and Randyll Tarly would be excellent examples of Core Set Rush main characters. Good support characters would include Handmaiden, Maester Wendamyr, Maester Cressen or Arya Stark.
Amount - Rush decks tend toward quite a standard numbers of characters, with a higher number of duplicates than usual. An average estimate would be slightly over 30 characters for a 60-card deck.
Locations - Rush decks tend to run a surprisingly low number of locations, with most of them committed to quick resource acceleration. Non-resource locations that make the cut are those which either help push through challenges, provide power-gain or help provide more mileage out of your power-gain characters.
Examples - The Kingsroad is most definitely a classic Rush resource, while Great Kraken is an archetypical Rush power-engine.
Amount - Low, somewhere between 10-15 for a 60-card deck, with resources aimed at the early game.
Events - Rush decks tend to go for one-shot events that either directly or indirectly (standing, extra-challenges) help with power-gain and winning challenges. Due to their vulnerability to control, they also sometimes run cancel-events.
Examples - The iconic Rush event in the Core would be Superior Claim, while other important examples would be The Kraken's Grasp and The Hand's Judgement (for protection).
Amount - Due to their early-game focus, Rush decks tend to run quite a decent amount of events.
Attachments - Rush decks tend to go for positive attachments over negative ones, especially ones that help protect the power-gain characters or make them gain more power.
Examples - Bodyguard, Seal of the Hand, Longclaw and Lightbringer would all be examples of positive Rush attachments.
Amount - Rush decks tend to run a decent number of positive attachments, since they are already relying quite a bit on keeping the power-gain characters alive.
Combo
Overall
Historically Combo has been a rarer deck archetype to surface in AGoT, but it does raise it's tentacles from the waves now and then. So what really is a pure combo-deck? And how's that different from all of the other decks that tend to have a decent amount synergy built-in?
Now, there's one important criteria for a Combo-deck. Your deck must contain a combination of cards, which when combined correctly, will automatically grant you the win - unless their interaction is somehow interrupted. Further, this interaction usually should not depend on obtaining challenge victories, although this is not always strictly true. And this is further complicated by the fact that Combo-decks are further divided into Power-gain and Lockdown decks, with the two types differing in many regards.
Sounds complicated... so what does it all really mean? Thankfully in the Core Set we have a surprisingly large amount of examples available, particularly in the defensive Night's Watch archetype centered around The Wall. The Wall is a good example here, as it's a very clear engine for a powergain combo. Once you put the Wall on the table, you'll win in a set amount of turns, unless your opponent can do something to interrupt it. The second part of the combo would then be anything that allows you to oppose all Challenges. Non-kneeling defenders like Old Bear Mormont fit the bill. As he can take attachments, Little Bird then covers his lack of intrigue icons, so barring stealth we're almost there! Essentially, what all powergain engines have in common is the ability to provide repeatable or massive power-gain - usually without winning a single challenge.
Now, while Powergain-combo decks have usually been seen mostly as cute, Lockdown decks are a completely different beast altogether. What they aim at is nothing less than completely stopping your opponent from being able to play the game anymore - the ultimate NPE (Negative Play Experience) if you will. As is to be rightly expected, there are no Lockdown Combo engines in the Core Set. Whether some will surface given time… is anyone's guess. In the LCGs previous edition, the most notable type of Lockdown combo was resource choke, and Core Set cards like Lordsport Fisherman and A Meagre Contribution seem to be clear nods in that direction… so it's not entirely impossible for Choke, at least, to resurface at some point.
Combo is in no way tied to any challenge type, but rather Challenges are something they are actively trying to avoid. It is also the archetype to try and leverage Pillage, and winning through the alternative win condition of discarding the opponent's whole deck, if that ever becomes a feasible approach.
The Cards
The cards for Combo-decks tend to vary quite largely depending on the Combo in question. Nevertheless there are some patterns and cardtypes that should be mentioned here.
Plots - Unless the Combo in question is formed by Plots (not unheard of), then the Plot deck mainly serves two functions - stalling the game until you find your pieces or searching for the pieces.
Examples - Summons and Building Orders are both clear cards for shifting through your deck to find the requisite engines.
Reset - Combo-decks often tend to run a Reset, so that they can either stall until they find their engine, or cleanup after they obtain Lockdown on your opponent's draw, hand or resources. The fact that all three need to be mentioned... should tell you something about Lockdown combos in the history of the game.
Characters - Characters often function as power gain Combo-engines. Outside of them, this category will fluctuate quite widely depending on the Combo in question. Characters that help thin the deck down or search for cards are often good choices for Combo decks.
Examples - Joffrey Baratheon would be an iconic example of a Combo power-gain engine, especially once Lannister is able to start fielding a considerable amount of Lord and Lady characters itself. Benjen Stark also has possible applications in this direction, as does Sansa Stark. The Red Viper could also become a Combo engine, if a suitable STR-ramping element could be found.
Amount - Depends entirely on the Combo itself.
Locations - Just like characters, Locations can function as Powergain engines. Outside of them locations tend to be for resource production or stalling the game.
Examples - The Wall is a clear combo-engine, as is Chamber of The Painted Table, especially in combination with The Iron Throne.
Amount - Usually a decent amount, but depends on the Combo.
Events - Events are often employed for tutoring (searching for) combo pieces, although there are also a few that could potentially actually function as engines themselves.
Examples - "The Bear and the Maiden Fair", as well as Olenna's Cunning are both Combo-enabler events. None of the events in the Core Set present a clear route for becoming actual Combo engines.
Amount - Again, the number varies according to the Combo.
Attachments - Theoretically attachments can function as any portion of a Combo engine, but the Core Set does not really contain any that would fulfill particular roles in this regard.
Examples -
Amount - Once more the same song - depends on the Combo.
Conclusion and Hybrids
A Game of Thrones is a hugely varied game, with a wide spectrum of different types of decks. And while there are decks that fit perfectly into one of these four archetypes, for each of those, there exist several that don't clearly fit any of them. Some decks may only employ Control elements to make way for their power rush cards, while others combine them with an impressive board position and high claim.
So what's the point of having these four core archetypes, if they don't cover the whole variety of decks? While many decks may not embody a single deck archetype, almost any deck can be expressed as a hybrid, or combination, of the four basic archetypes. In this way, these four archetypes function as a foundation for the whole design space of any deck imaginable.
We will be returning to specific hybrids and other niche decktypes (Swarm, Tempo etc.) later, by adding a third part on this topic. However, that will be a new extension, and Pt.1 & Pt. 2 together comprise the full content of the original Crafting the Theory article, as well as functioning as a primer for the AGoT deck archetype vocabulary.
Want to discuss the definitions provided here? Interested in chiming in with how your favorite deck fits into these archetypes... or breaks them altogether? Did you just realize you had apparently been playing _____ all along? Let us know in the comments below!
Paimen, sparrowhawk, KruppSteel and 1 other like this
Article: Recrafting the Theory: Deck Archetypes (Pt. 2)