Welcome to Card Game DB
Register now to gain access to all of our features. Once registered and logged in, you will be able to create topics, post replies to existing threads, give reputation to your fellow members, get your own private messenger, post status updates, manage your profile and so much more. If you already have an account,
login here
- otherwise
create an account
for free today!

0
Recrafting the Theory: Deck Archetypes (Pt. 1)
Nov 01 2015 01:50 PM | WWDrakey in
Articles
Recrafting the Theory
WWDrakey
JCWamma
Ire
Ratatoskr
AGoT2.0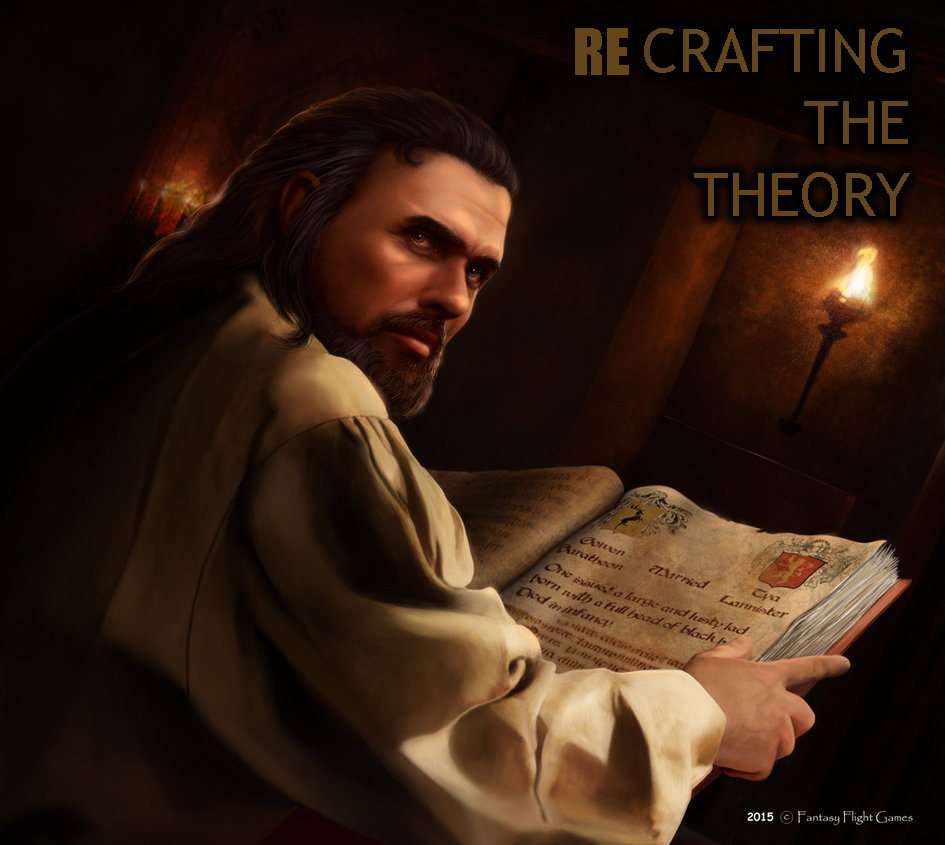 Recrafting the Theory - Deck Archetypes (Pt. 1)
Foreword on Recrafting the Theory (by WWDrakey)
We're now at the advent of A Game of Thrones 2nd Edition, and a few years have gone by since several of us older beards wrote up a series of "Crafting the Theory" articles, aimed at collecting some of the game's organically developed game theory, that until then had mainly been passed on only through backroom whispers or by various demented Maesters to their students in candle-lit libraries.
While the old articles are still available, and the game's fundamental structures (challenges, plots etc.) have not drastically changed, all of the examples those articles talked about are now, well... obsolete. And while the core structures themselves have not been completely altered, any theoretician worth their salt should know that even small changes in fundamental structures can send out ripples large enough to shake theories to their Core, like waves on the top of your beer pitcher leading to hours of painstaking hand-copying being ruined... Krhm.
So, here we are. Recrafting the old theories based on the two previous iterations of the game (AGoT CCG, AGoT LCG) and fitting them into the newest and shiniest version of the game ever - A Game of Thrones 2nd Edition. To help handle this epic task, as usual, I've come begging for help from my Quill & Tankard comrades. After we cover the applicable portions of old ground, we will likely try to gather up a bit more of that tacit undocumented theory, and who knows, perhaps even forge on into some new and uncovered ground brought to light by the 2nd Edition.
But let's not get ahead of ourselves, first it's time for the very fundamentals… and we're starting off with the core principles of how AGoT deck archetypes are classified, an old Crafting the Theory article originally posted here.
On the Need for AGoT's Unique Theory & Deck Archetypes
If we're not deluding ourselves, a lot of the theory that has trickled over to other card games has been originally developed for the elephant in the room, Magic the Gathering. Credit where credit is due. So, why then, do we even need any AGoT specific theory? Well, remember what we mentioned above about even small changes causing ripple effects that lead to fundamental shifts in theories? That's very much the case here.
With regard to the deck archetypes, this is caused by several important differences.
The decoupling of the game's victory condition & board dominance. Essentially, the bigger you successfully attack in MTG, the more it will (generally) move you towards your victory condition. In AGoT, this is not the case. Barring card effects, attacking a challenge through for 20 STR with 4 characters is just as beneficial as attacking through for 5 with one. This can be even more blatantly pointed out by considering a scenario, where your opponent is not gathering power on their Faction card, is not attacking at all, but is still able to oppose all of your Challenges somehow (f.ex. high draw and a lot of weenies, some card effects that makes all challenges be considered opposed by 1 STR etc.). How is that taking you towards your win condition? Barring card abilities, not at all.
Built-in non-voluntary board and hand attrition through Intrigue and Military Challenges. This is a pretty big thing, as it means that neither your board position nor your hand are ever safe from being interrupted by your opponent, as they are both made directly vulnerable through the game's core mechanics. In most other games, you can always decide whether you will defend with characters or not, and if they do not participate, they will mostly remain intact, with your opponent simply edging closer to his or her win condition. In AGoT, this is not the case. The pressure on both your hand and board, is constant and unavoidable.
Availability of on-demand resets & toolboxing. The plot deck, with it's assured access to specific effects, especially resets and point-and-click solutions, like kneel or attachment removal, change a lot of things. This is especially important for Combo and Control decks (which can both utilize this and be thwarted by it), but also relevant for all others.
All of those things, and other key differences like simultaneous turns, character STR varying between challenges, a different timing structure and very different general card design patterns lead to the deck archetypes ending up very different from what people coming from MTG (or other games more closely following MTG archetype patterns) may be used to. Suddenly Aggro & Rush are not the same thing anymore, and concepts like Tempo become quite a bit more difficult to pin down.
Deck Archetype vs. Playstyle
Getting right into the business of defining vocabulary, there's a very important first step we need to make. What is it we should really call the four primary AGoT approaches of Aggro, Control, Rush and Combo? Are they Deck Archetypes or Playstyles? Is it the deck that dictates the way the game rolls, or is it really the driver behind the wheel?
Now, the important first clue here comes from the fact that the deck you're playing can completely stop you from playing it in a specific way. If you're playing a deck purpose-built for rushing, how can you leverage that for Control? If you have no renown or stealth, how are you going to accomplish that quick power-grab?
Basically the player is free to play a deck with their own Playstyle... but only within the spread of approaches that a given deck allows them. Because of this, we are choosing to talk here about Deck Archetypes, even though the two terms are often quite interchangeable and intimately connected. The playstyle of a player dictates the way they construct a deck, and the structure of the deck hints to the player how it should be played.
There is also another reason why we're opting for this approach - measurability. Player decisions in-game are hard to measure, so when looking for definitions for the archetypes, we need to look at what the game is all about - cards. Always the cards.
Aggro
Overall
So what actually constitutes an Aggro deck? How do you identify one?
A general description for Aggro would be that it always aggressively aims for board position supremacy, while interrupting your opponent's play through high claim challenges and using challenge-victory-based effects for additional removal to drill in the advantage.
Winning challenges to apply pressure to your opponent on all fronts is key when playing with Aggro, and this also applies to stopping your opponent from pushing his or her challenges through. Generally, individual cards are more dispensable, since the overall position is the primary target you are aiming for and cost-efficiency is paramount for every card you invest in. Gold spent on something that doesn't bring you STR, aggressive keywords or add pressure in general on your opponent should be few and far between.
Inherently, Aggro is mainly a playstyle focusing on the mid-game, and is built on leveraging the fundamental Challenge mechanics to it's advantage. While none of the archetypes are built solely on one Challenge-type, each has one that it cannot afford to be consistently losing ground in. For Aggro, this would be the military challenge.
One sub-division between Aggro decks is Hard Aggro vs. Medium Aggro. While Hard Aggro aims at completely crushing it's opponent off the board, and wiping their hand out, Medium Aggro is more happy to just plonk down big bodies like there's no tomorrow, and then slowly smother it's opponent away through Challenge-phase dominance. Where Medium Aggro tends to go for big resource plots and spewing out endless threats, Hard Aggro will try to go more for the throat with high claim coupled with removal effects. Medium Aggro decks tend to more often slip into the territory of hybrids, but more about that later...
The Cards
Plots - Plots in an Aggro deck tend towards the two things needed for overall board dominance - high-claim and good resources. Effects on the plots tend towards ones that either give you a leg up in winning challenges or help maximize the impact from the pressure you are applying. The easiest way to figure out if a deck is Aggro is to look at the plot deck, and count the number of high-claim plots there.
Examples - The fundamental Aggro plot in the Core is Winds of Winter, which allows higher-claim pressure across all challenges. Another key plot in the Core for pushing an obtained advantage would be Marched to the Wall, with it's combination of good gold production and an unsaveable attrition on both player's boards.
Reset - Aggro decks are quite varied with regard to Resets - from often running without one to running one themselves (especially to combat other harder Aggro decks or to cut down on an over-populated board). Whatever the choice, one thing is always clear. They are themselves the most important reason that other decktypes must run resets...
Characters - What Aggro looks for in a character is a good cost-to-strength ratio, keywords that help win challenges and abilities that help a character participate in several Challenges in one round. Pure numerical efficiency is the order of the day, and every card needs to be available for helping push those all-important challenge-wins through. Effects on characters tend to favor those that trigger off winning challenges.
Examples - One of the clearest Aggro cards in the Core Set is Ranging Party, which brings to the board more STR than it costs, and is able to leverage it in two challenge types due to being a bicon, with one of those being military. The 5 STR here also takes it over the limit of being able to trigger 'win by 5' events by itself. Other examples would be the Braided Warriors or Ser Jaime Lannister (with his participation in two challenges).
Amount - Due to the requirement of a large board presence and being so intimately tied to winning challenges, Aggro-decks tend to be the decktype with the most characters. In the past, for a pure 60-card Aggro-deck 35 characters is probably quite close to the minimum, and something as high as 40-45 characters has not been completely unheard of.
Locations - When it comes to locations, Aggro tends to have an average number. The emphasis is on locations that will allow them to push through challenges and retain board dominance. The focus is on cheaper locations, as well as those with high cost-efficiency.
Examples - The Iron Fleet Scout is a quintessential Aggro location, as it offers free STR for participating characters to help push through 'win by 5' effects, helps optimize setups and win challenges. Other examples would be Castle Black due to helping generate board advantage and Plaza of Punishment for helping turn power-challenge wins into hard-to-save-from board advantage. Due to their triggering requirements, many of the Cores draw locations (such as The Mander) are also very Aggro-oriented.
Amounts - On average, Aggro decks usually run a middle-of-the-road number of locations, somewhere around 15 locations for a 60-card deck, but this can and will vary between decktypes. A notable example are variants that eschew effect locations entirely, instead simply using locations as resources to be able to jam in more characters on the table.
Events - Two primary categories - those that help win challenges and those that trigger off winning them, especially by 'winning big' and generating immediate game state changes.
Examples - Put to the Sword, Put to the Torch, For the North!, Winter is Coming, Growing Strong… there are a lot of classic strong Aggro events in the Core Set.
Amount - The number of events has traditionally been quite low, but they often have a very high impact on the board position.
Attachments - Attachments are usually more of an afterthought in Aggro-decks, and sometimes even completely omitted. When running attachments, they tend to be either positive STR pumps or negative attachments focusing on either taking characters out of challenges, making them more vulnerable or closing out their abilities.
Examples - Both Widow's Wail and Heartsbane are classic Aggro attachments.
Amount - Low.
Control
Overall
As a game, AGoT has always had a strong Control-presence. However, as the way both challenge pressure and many plot effects also exert forms of "control" on your opponent, the definition of what Control as a deck archetype in AGoT is, may not be inherently apparent to those coming from other games. This is not helped by the 2nd Edition Core being quite light on strong Control effects, although those are bound to crop up sooner or later, so it's a good thing to learn about them now… So, what are the elements that make it Control, and how do you discern whether all your characters got killed by Controlling, and not through Aggro?
The key element in understanding Control are effects, because that's what Control lives and dies on. Every card needs to do something, and not just stand there being beefy. Only by having more effects than your opponent can you successfully dictate the direction of the game, and make sure that your opponent's hands are successfully tied. Usually the emphasis here is also on effects which have flexible timing, and while Aggro lives and dies with winning Challenges, Control will always try to do it's work outside of them when possible. Because of this, effects triggering off you actually winning challenges tend to be quite unfavorable for Control.
Strong individual card effects are a hallmark of Control, as are playing with a small and flexible board position, interrupting challenge math through card effects and stalling for advantage. Without other themes mixed in Control is a clear end-game deck, which instead of working against the clock, has all the time in the world... as long as it can thwart the opponent from winning quickly. This long-term emphasis is also seen in the way Control decks are always looking for long term card advantage (be it draw or recursion).
At this point it is important to note that Control is actually comprised of two, quite dissimilar, approaches - Hard Control (mainly Targaryen Burn) and Soft Control (such as Icon Manipulation or Kneel). While Hard Control aims at using card effects to permanently remove cards (or at least characters) from your opponent, Soft Control simply settles for making your opponent unable to actually do anything with the cards they have. The important difference between the two is one of impact. Hard Control tends to have high-cost and high-impact effects, while Soft Control relies more on cheaper repeatable effects.
The distinction with price is very important here. If Hard Control were able to have effects at the same prices as Soft Control, it would inevitably dominate, due to the more permanent nature of the solutions involved. There also used to be a third sub-type of Control deck called a Toolbox, which usually ran a mixture of Soft and Hard Control with narrower applications, then proceeded to choose the Control tools it used by tutoring, according to the opponent it was facing. Whether this will resurface in AGoT Second Edition, is anyone's guess.
While no archetype is bound singularly to one Challenge type, due to playing the long game and needing to avoid being interrupted, Control can rarely afford losing a lot intrigue challenges.. and can often gain good mileage of slowly whittling it's opponent's hand away. Similarly reserve manipulation, be it increasing your own reserve or lowering your opponent's, fits the Control approach of increasing your own amount of options and reducing your opponent's.
The Cards
Plots - Classically every Plot in a Control deck must do something. Usually this means cards with especially strong When revealed: -effects or strong constant effects that tie into controlling your opponent. Claim and resources are usually merely an afterthought, although an unavoidable one at times.
Examples - Jousting Contest, Wildfire Assault, A Game of Thrones and Filthy Accusations are all iconic Control plots.
Resets - Reset early, reset often is the order of the day. Control decks can often get very good mileage of dragging the game out by running multiple resets.
Characters - Control tends to favor characters with powerful effects, especially ones triggered by the character coming into or leaving play. In a way, characters tend to be looked at as more events (but ones with legs), ones that provide you a 2-for-1 advantage in both helping you control the board with their effects and additionally give you some board presence. Repeatable control effects on characters are worth their weight in gold, as well as passive effects that stop your opponent from doing specific things. Statistics, keywords and icons on a character are merely a nice bonus. It's what they actually do that counts.
Differences - Characters are one of the places where Soft and Hard Control differ quite a bit, since Soft Control decks usually run at least one 'finisher character' (Martell's The Red Viper would likely fit this angle) in order to close the game out when they have a lock on it. Hard Control rarely has the luxury of paying the cost of a finisher, and is in less of a hurry to close the game out.
Examples - Melisandre and Stannis Baratheon are some of the foremost Control characters in the Core Set, with one asserting a repeated soft-control, while the other produces a soft lock on the controlled characters. The Queen's Assassin would be a classic comes into play non-unique Control character. However, the primary Control character in the Core would unquestionably be... Varys.
Amount - Control decks tend to be the decks with the fewest number of characters. In 60-card decks this usually means something between 20-30, but can also be higher or lower, depending on the structure of the deck.
Locations - Control decks love their locations, be they additional long-term resources or repeatable strong-effects.
Examples - Highgarden is a very classic Control location, allowing "permission" style soft-Control through Challenge removal, especially together with Jousting Contest. Another classic Control location would be Ghaston Grey. Arguably The Iron Throne would also be a Control location, as it allows Control to hold more of it's tricks back, while it's power generation helps turn longer stall games into slow victories.
Amount - Control decks tend to have more locations than most, often going close to 20 for a 60-card deck. These additional locations are mainly made up of various effect-providing ones, while the resources tend towards permanent ones like Roseroad, over fast ones like Kingsroad. However, this is not a given and less location-heavy Control-builds can exist.
Events - Events are really the heart of control. The more you have, the better you can affect the flow of the game. Hard Control tends to go for more costly events with permanent removal, while soft control relies more on well-timed effects that negate your opponent's challenges.
Examples - Dracarys! is a premiere hard control event in the Core, while Confinement and Consolidation of Power are classic soft control ones. Despite the challenge-win condition, Tears of Lys should likely also be classified as a Control event, due to both it's tie-in with the intrigue challenge and delayed impact.
Amount - Most Control-decks are very event-heavy.
Attachments - With characters merely being events on legs, it's not really worth it usually to play positive attachments on them. However, negative attachments do often play quite an important role in Control decks as well as attachments which function as repeatable Control in any manner. Likely attachments without Terminal will also be preferable for Control decks in order to leverage them through a long game.
Examples - Curiously, the Core Set is very thin on Control attachments, with Milk of the Poppy being the only one to even come close.
Amount - Some, number depends on the type of Control being employed.
To be continued...
Wait a second. What about Rush and Combo? I'm sure we saw those mentioned, so why is this article ending now?! Were you too senile to include those?
While epic treatises are our second nature, we've attempted to keep these articles in at least a somewhat more approachable format. Which in this case means, that we've cut the original into two. The second portion of this article will be published in a day or two.
Antti Korventausta (WWDrakey
)
is a self-proclaimed Finnish AGoT philosopher and doomsayer hermit, who used to practice Quantum Mechanics, but found that it paled to AGoT in both interest and complexity. Having played and judged for more years than he would like to admit, he has found himself on the winning side of rules arguments more than he would expect. In any game he plays, he has a tendency of playing anything he considers to be off the beaten path, whether it makes sense to others or not
.
Helmut Hohberger (Ratatoskr) started playing AGoT in September 2010 and has never looked back (although his wife has, longingly). As a German, he loves rules - and I mean *loves* 'em. He is the quintessential rules board morlock. While the others played and frolicked about outside, he sat by candlelight in a remote corner of the library and tried to get a grasp on the intricacies of the 1st edition rules. He even thought he did not do too bad at it, but then the Call of the Three-Eyed Crow drove him into the darkest depths of madness and despair. But he's all better now, honest, and looking forward to new challenges.
Iiro Jalonen (Ire) Started AGoT in 2009, got pulled under the waves by Krakens years ago, and has never looked back. While not an Oldtown local, he has often been spotted in the Quill & Tankard Inn making sure that the rules of sportsmanship are maintained with the traditional finger dance games. A self-inflicted Shagga and active member of the global AGoT community, he has always strived to know the rules of the game, in order to make them do ridiculous things.
James Waumsley (JCWamma) is a first edition veteran who has judged at multiple large tournaments including the European championship of Stahleck. A renowned loudmouth and pedant, he will shout about the rules loud enough that he can be heard by those north of the wall.
Kennon, Egg, scantrell24 and 10 others like this
Article: Recrafting the Theory: Deck Archetypes (Pt. 1)