Welcome to Card Game DB
Register now to gain access to all of our features. Once registered and logged in, you will be able to create topics, post replies to existing threads, give reputation to your fellow members, get your own private messenger, post status updates, manage your profile and so much more. If you already have an account,
login here
- otherwise
create an account
for free today!

1
Scheming on the Sands - Most Underrated Faction
Scheming on the Sands
mnBroncos
Martell
Game of Thrones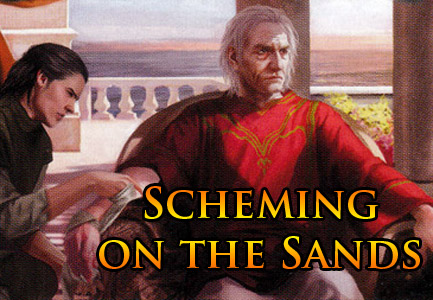 Scheming on the Sands - "Most Underrated House"
"Unbowed, Unbent, Unbroken"
Welcome old followers and new readers. My name is Brandon Zimmer and I am excited to be bringing back an old article series from first edition that focuses on the House (faction) Martell! For those who don't know me a little about myself I am from Minnesota been playing the game since two months before Worlds 2012, the first official worlds at FFG. I am not as renowned as some of the other players on the forum but do have a fairly solid reputation for people that do know me. I made the cut at worlds 2 years ago and have never not finished a Game of Thrones tournament with a below .500 record. I tend to look at the game differently than a lot of players and try to play things against the norm, although that is harder to do now with smaller card pool. My goal with these articles will just to be creating discussion and conversation around my favorite house in first edition and what is growing to be my favorite once again in second edition.
In this week's article I am going to just give a brief description of what makes this house VERY strong. That is right I said VERY.
Great Low Curve
It is funny how the faction that won worlds is still being talked about as one of the weakest factions in the game from most of the posts that I am seeing. People are starting to come around to them as a support faction but they still remain underrepresented as a main faction. One thing that makes them stand out is being able to have good low curve with characters that aren't straight garbage. Looking at the characters that Martell has that cost 3-1 gold you can see they really shine compared to other factions within the game. Going in alphabetical order (because looking at cards through the deck builder) we first have:
Areo Hotah
: A lot of people look at this guy and see a 5 cost character that can end a challenge. What people don't really see is a 3 cost character that gives you 5 strength in the challenge that Martell is currently the weakest at. When you are faced against Factions such as Stark and Greyjoy an early Hotah can help you tremendously by either defending with enough strength to stop your opponents put to the swords or by helping you counter strike and being able to win military challenges of your own. Sure Hotah is great when you can combine him with Arianne, however, don't be afraid to just play the 3 gold and get a strong military character out of it if you can't afford the ambush.
Bastard Daughter
: Maybe the best 2 cost character in the game. Game of Thrones right now is a lot of the time about keeping your key characters around to win the game. However, in order to effectively do that you need characters to sacrifice to military claim. Being able to trade a card for a card with your character after it leaves play is rare. Also, being non-unique means can run full play set without worry about them dying (you want them to!)
Dornish Paramour
: At 3 gold she isn't the greatest right now I won't argue that, there are situation times where is a real mvp though. Being able to drag an opponent's best character into a challenge that you can often win anyways. If Martell gets more incentive, or bannered into a faction, where want to go first more often though then she becomes a real standout.
Edric Dayne
: Oh My! I cannot say enough about this guy. Honestly if you have not played with this guy you need to. Being able to give him any icon when he has stealth basically lets him defend any challenge or help you push through any challenge. When you add Doran and Dawn he becomes the strongest character on the table!
Greenblood Trader
: A better version of a card that was x3 in majority of Martell decks in first edition at the same cost. This will be a x3 in every Martell deck probably forever. Being able to get a character and filter through your deck and picking the card that you need most, forget what I said about the Bastard Daughter this IS the best 2 cost character in the game.
House Dayne Knight
: As much as people want to say Power is the name of the game in second edition. Second edition is still more similar to First edition than it is different and this character has the best two icons in the game. Very great curve character that will see play for long time because makes huge impact on your setups.
Maester Caleotte
: Everyone by now knows how amazing this Maester is. Clearly one of the best 3 cost characters in the game. I can't even count how many times I have Tears a Tyrion or Mel because of this guy. He either helps you win a challenge in the future by removing a key icon or he wins a challenge attacking by himself because opponent is afraid to block him.
Obara Sand
: I do think this will eventually be replaced but is solid on curve x1 character that gets better when you are up against Baratheon.
Although once the card pool grows everyone will have access to more options at this time Martell has arguably the best collection of 1-3 gold characters which gives you reliable setups and helps you tempo out throughout the game.
Soft Control
Now Martell's control is not to the point that I would like it to be, because I do hope FFG has plans for making Martell the true control house once again. What Martell does have is soft control options that help you win challenges, and the game right now is centered on winning challenges. So let's take a look at some of Martell's key control tools.
Confinement
: This 1 gold event has a lot of utility that a beginning player often won't realize. You can take an icon away from an opponent's character that would be used to win a challenge against you, used so you can win a challenge against them, remove intrigue icon so can tears a key character, and even more things that inevitably come out down the road. For 1 gold this can impact the board in huge swings.
Nymeria Sand
: This amazing new character only has one major downfall and that is she is only helping you with 4 strength for dominance, if she gets milked. Otherwise, she is often times going to be strongest character out on the table. Being able to give yourself an icon you need at command to win a challenge or most importantly to remove an icon so your opponent can't win a challenge every turn is something that will be strong throughout the game, and will only get better the more sand snakes we get.
Ghaston Grey
: Of course Ghaston Grey had to talk about this gem at some point. What this does is beyond amazing. Using your 2 gold (or 1 gold in fealty) location to bounce a 5-8 cost character is huge in tempo. Often this card forces your opponent to save their best character for defense. Also, since you can play another after use one is flat out mean. Corner stone to Martell and helps you win many challenges that you could have other wised lost due to your opponent not being able to challenge with their strongest guy.
Not going to go over them again because already discussed them but Dornish Paramour, Hotah, and of course Maester Caleotte are all other cards that have soft control effects that helps you win challenges you would otherwise have lost.
Underrated Big Guy
Doran and The Red Viper two characters that single handily are making players not wanting to play Martell as their main faction. What one needs to know is Martell is not Baratheon. You are not just playing out your Mel and Robert and going on autopilot. Martell are for the players that want to make the key decisions. What challenges are worth winning this turn? How do I stay ahead on the board? Which character in my hand do I need on the table this turn? So much more thought goes into playing with Martell that at first glance they appear weaker because some of their cards do not match up to others on a card by card comparison. But from a Faction to Faction comparison Martell is right there.
The Viper is a Tricon 7 strength character that will win challenges on his own. His power gain ability isn't amazing on paper because he only gains between 0-1 powers most of the time, but that is because your opponent often defends that challenge. Just because he only gets that 1 power a turn doesn't make it worse than renown he forces defends that otherwise may not occur if using another character. Also he helps you trigger Doran's Game which will straight up win games.
Doran, oh Doran. "the worse 6 cost character by far" A character that draws cards with Insight, increases the strength of 3 of your most important characters, and will only be getting better is so awful. No Doran will not win you games on his own, but that is not how Martell plays and once you get away from that mind set than you begin to understand how good Martell truly is Martell is about all the pieces of the puzzle not just one cornerstone.
Martell Fealty
I would like to end this intro article of this series with a decklist that I am currently using with great success. I am not going to go into detail in how to play the deck I want you as the reader to just give it a few tries and see what you come up with. I will remind you though Martell is not about getting your 6-7 cost guy out early and trying to dominate the game in that fashion.
Total Cards: (60)
Faction:
Martell
Agenda: (1)
1x
Fealty (Core Set)
Plot: (7)
1x
A Noble Cause (Core Set)
1x
Confiscation (Core Set)
1x
Counting Coppers (Core Set)
2x
Heads on Spikes (Core Set)
1x
The Long Plan (Taking the Black)
1x
Wildfire Assault (Core Set)
Character: (33)
2x
Areo Hotah (Core Set)
2x
Arianne Martell (Core Set)
3x
Bastard Daughter (Taking the Black)
3x
Desert Scavenger (Core Set)
2x
Doran Martell (Core Set)
2x
Dornish Paramour (Core Set)
2x
Edric Dayne (Core Set)
3x
Greenblood Trader (Core Set)
3x
House Dayne Knight (Core Set)
1x
Littlefinger (Core Set)
2x
Maester Caleotte (Core Set)
2x
Nymeria Sand (The Road to Winterfell)
1x
Obara Sand (Core Set)
1x
Palace Spearman (Core Set)
1x
Syrio Forel (The Road to Winterfell)
3x
The Red Viper (Core Set)
Attachment: (3)
1x
Dawn (Core Set)
2x
Milk of the Poppy (Core Set)
Event: (10)
3x
Confinement (Core Set)
2x
Doran's Game (Core Set)
3x
Tears of Lys (Core Set)
2x
The Hand's Judgment (Core Set)
Location: (14)
3x
Blood Orange Grove (Core Set)
3x
Ghaston Grey (Core Set)
2x
Sunspear (Core Set)
3x
The Kingsroad (Core Set)
3x
The Roseroad (Core Set)
If you would be interested in starting a series on another one of the houses leave a comment or send me a message and their is strong chance that it could happen. If you have any particular topics you'd be interested in me talking about be sure to comment and let me know. Until next time hope you all give Martell a deeper try just because they aren't as easy to play doesn't make them worse.
scwont, celric, kizerman86 and 7 others like this
Article: Scheming on the Sands - Most Underrated Faction